We are already into the third month of the year. Can you belive it? I have been working away in my new studio and loving it. 
You can see some of my latest work in my shop.
If you want to see all the amazing artists and artwork that is being presented through the gallery, go to facebook.com/groups/artisticsoulsgallery.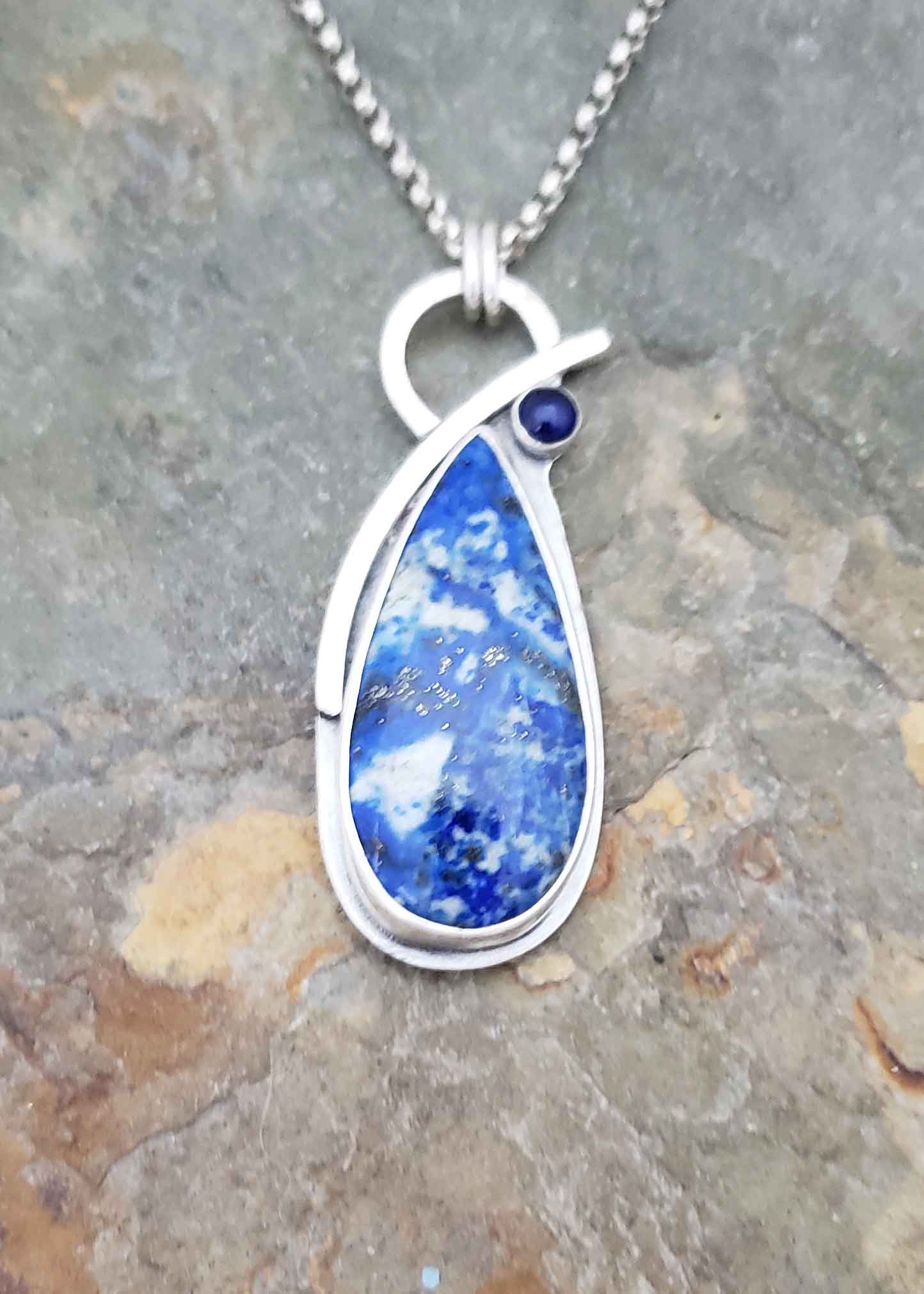 Ostium – SOLD
​A lapis pendant was the first serious piece of jewelry I purchased. I found it in a wonderful artist shop when I was in high school. That pendant is the one that initiated my desire to learn to work with silver and stones. I took a roundabout path to get here, but here I am with my favorite color.
When I saw this piece of lapis I knew I wanted to pair it with a sapphire to accent the range of blues in the stone. Lapis is a stone of wisdom, intuition and truth. The pairing with a sapphire accentuates the lapis properties with wisdom, hope and faith. All good things to have every day.
The pendant is approximately inch 1 7/8 x 3/4 inch on an 18 inch chain
$265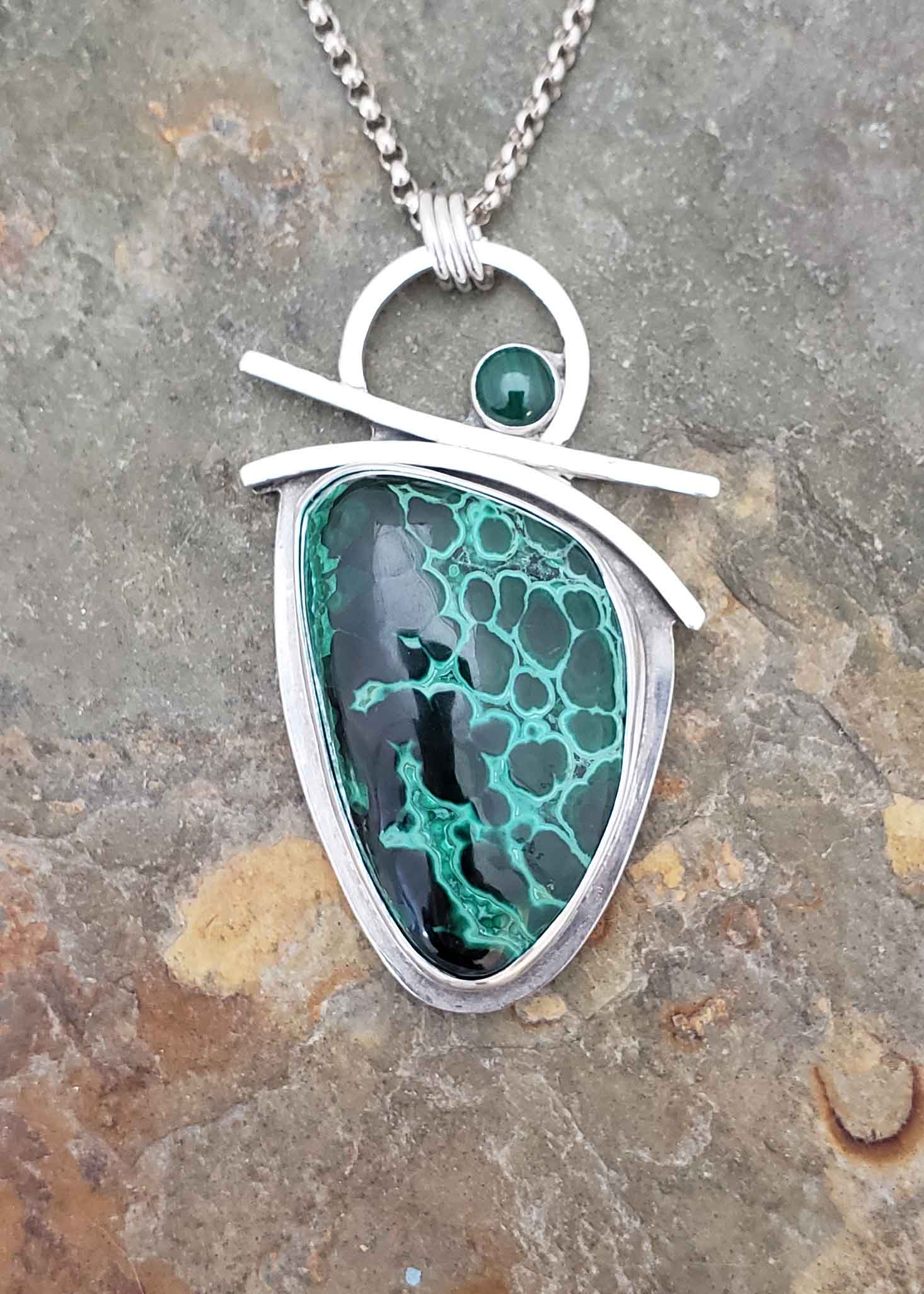 Transformation – SOLD
Pendant is approximately 2 1/4" h x  1 1/4" w, chain is 24 inch. (Buyer has the option to change the length of the chain to 18 or 20.)
Original Jewelry
Tarnish resistant Sterling Silver, Snakeskin Malachite, Malachite. Tarnish resistant Sterling Silver Chain. Nickle Free.
Even though I don't usually work with Malachite, there is no question why this stone screamed choose me. Malachite is a stone of transformation, and what better than a snakeskin texture to remind us we have the power to transform ourselves and our lives.
Malachite is a stone of transformation, bringing balance and abundance. And who can resist the colors of a forest?
The pendant is approximately 2 1/4 inch x 1 1/4 inch on an 24 inch chain.
$350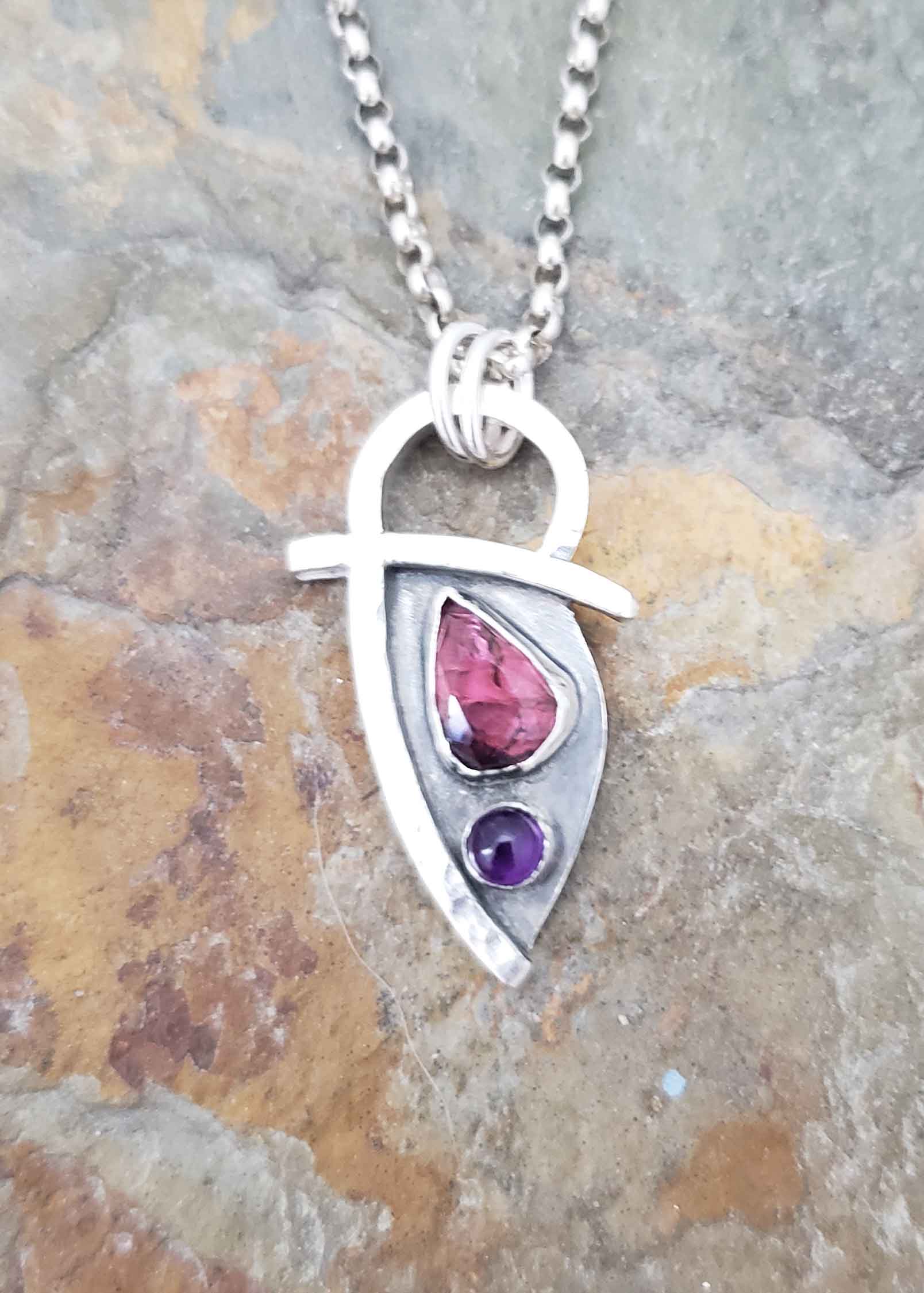 Statera – SOLD
I love winter, but I think I am ready for spring to start peeking out. These stones remind me of some of the first flowers that popped up in our yard last spring.
Pink Tourmaline, also known as Rubellite, is linked with the heart chakra and helps to bring balance. Amethyst is a protective stone.
$220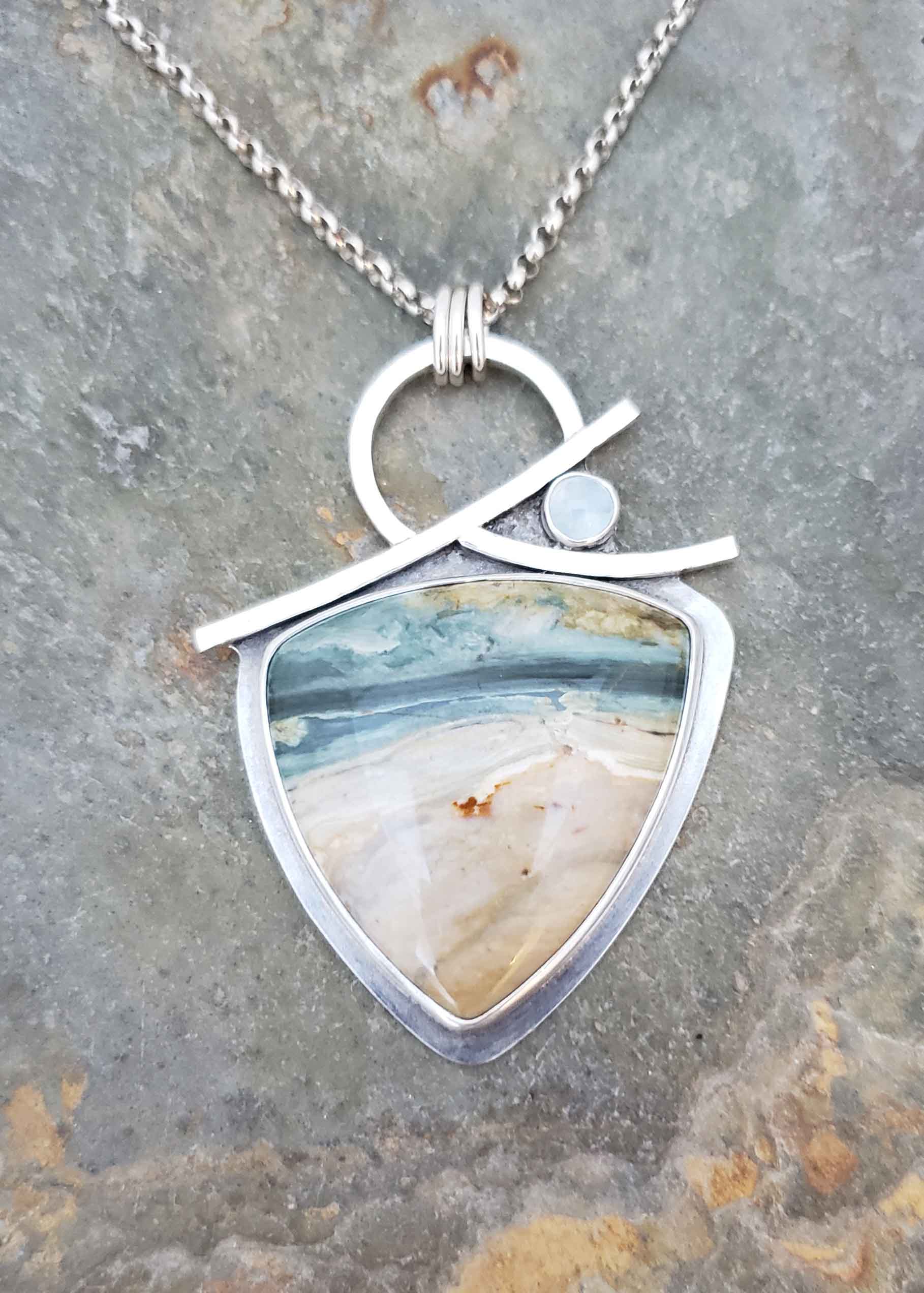 Seaside Stroll – SOLD
There is nothing like a walk along a quiet beach. Soaking in the sun, smelling the salt on the breeze and listening to the waves like a heartbeat of the Earth. It's grounding, healing, and so soothing.
Larsonite is petrified bog wood and helps connect with the energies of the earth, while aquamarine helps to relieve stress and clear the mind. Much like a walk on the beach.
$365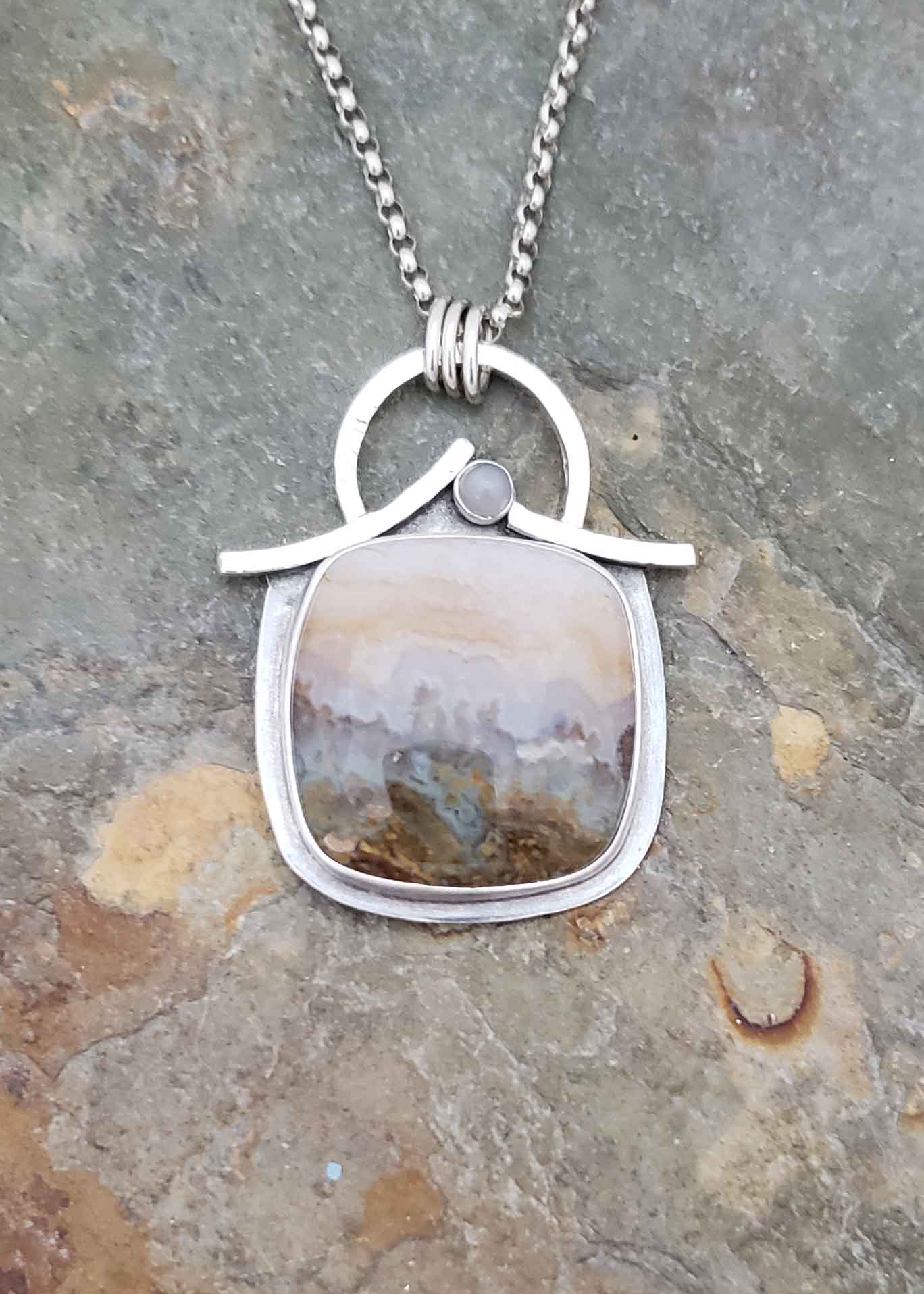 Woodland Mists – available
This stone reminds me of the coastal mountains shrouded in mist, muting the colors that will be on display as the fog burns off. When we think of color we generally think of bright colors, but there is something romantic and calming about the muted colors. And nature really knows how to show them off.
This pendant is approximately 1 7/8 inch x 1 3/8  inch on an 18 inch chain
$310