There are so many great stories that begin with 'once upon a time'. What are yours? Here are a few of mine for the pieces in this show.
You can see some of my latest work in my shop.
If you want to see all the amazing artists and artwork that is being presented through the gallery, go to facebook.com/groups/artisticsoulsgallery.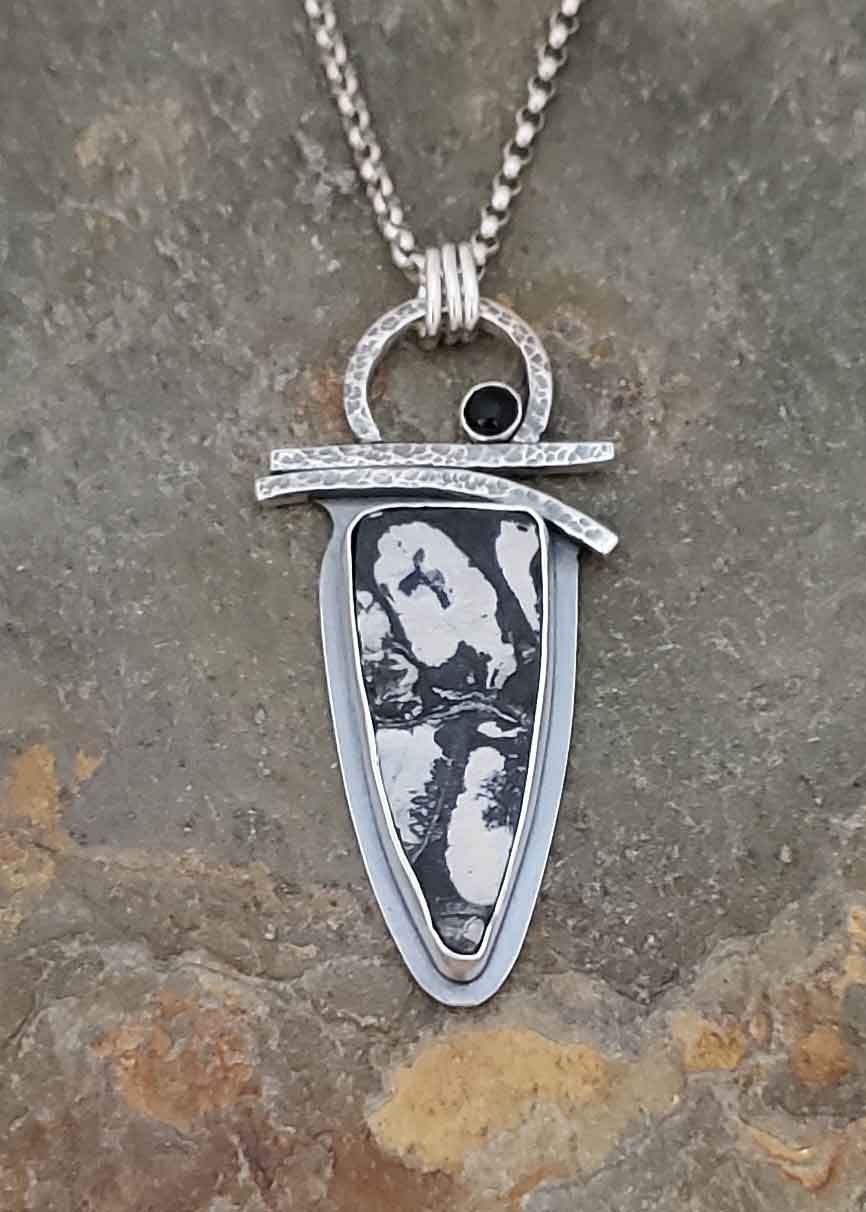 Keepsakes – SOLD
Once upon a time, the lovely lush ferns caught Mother Nature's eye. She was saddened by the fact that as conditions changed they would die.  She loved the ferns and wanted to make some of them immortal. What if she captured them in layers of minerals to preserve them? So became the Fossil Fern.
Fossils represent time, eternity and evolution. Onyx is a stone of protection.
The pendant is approximately inch 2 x 1 inch on an 18 inch chain.
$325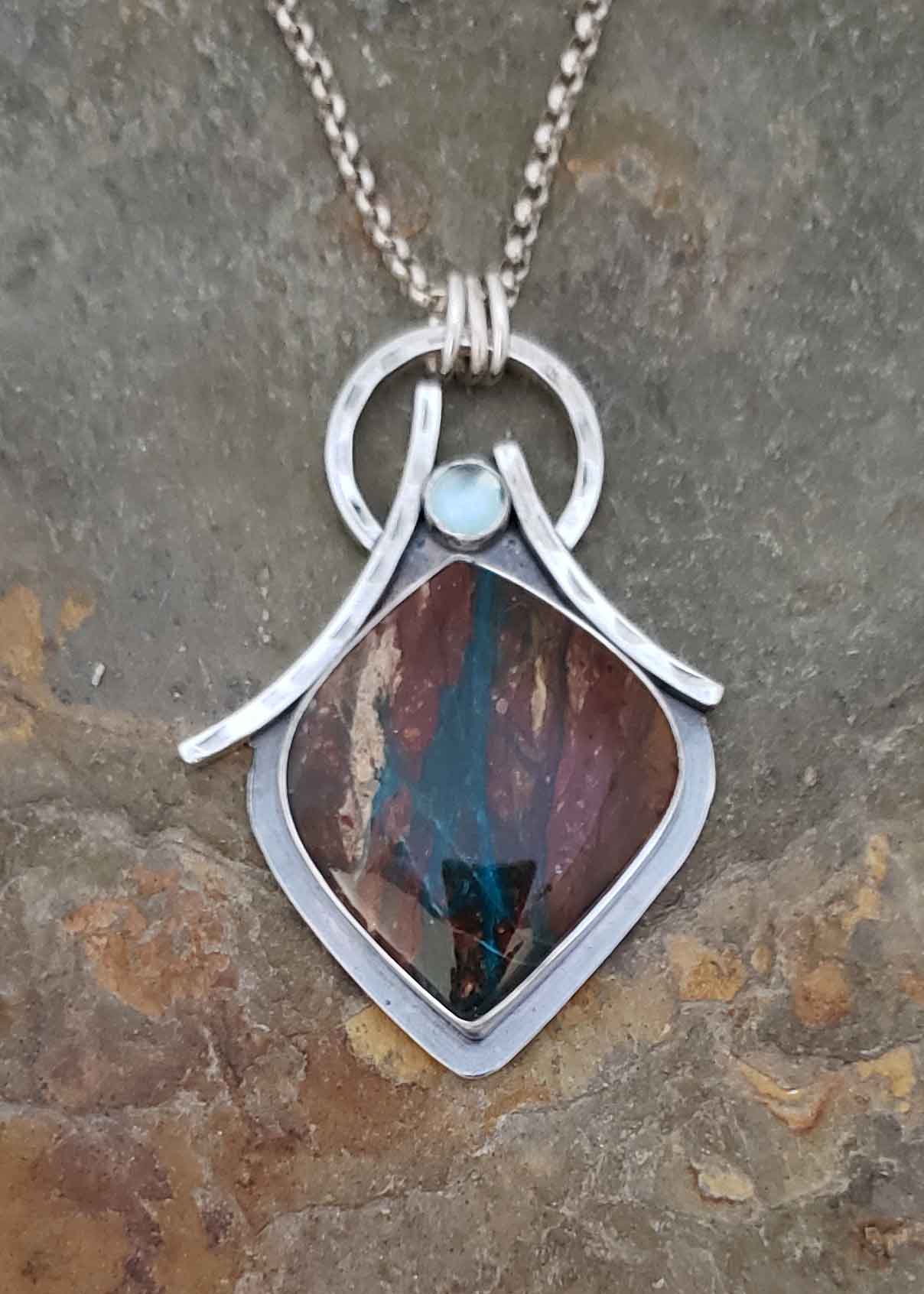 Mountain Angel – SOLD
Once upon a time, Mother Earth laid down layer upon layer of minerals, often changing them up. Over time, with heat and pressure, these layers developed into beautiful layered stone. Peruvian Opal was created this way in the Andes  is thought to be a gift from Pachumama.
Peruvian Opal is known for reducing stress and helping the wearer approach the future with tranquility. Swiss Blue Topaz is known for improving communications skills and stimulating mutual understanding.
The pendant is approximately 2 inch x 1 3/8 inch on a 24 inch chain.
$360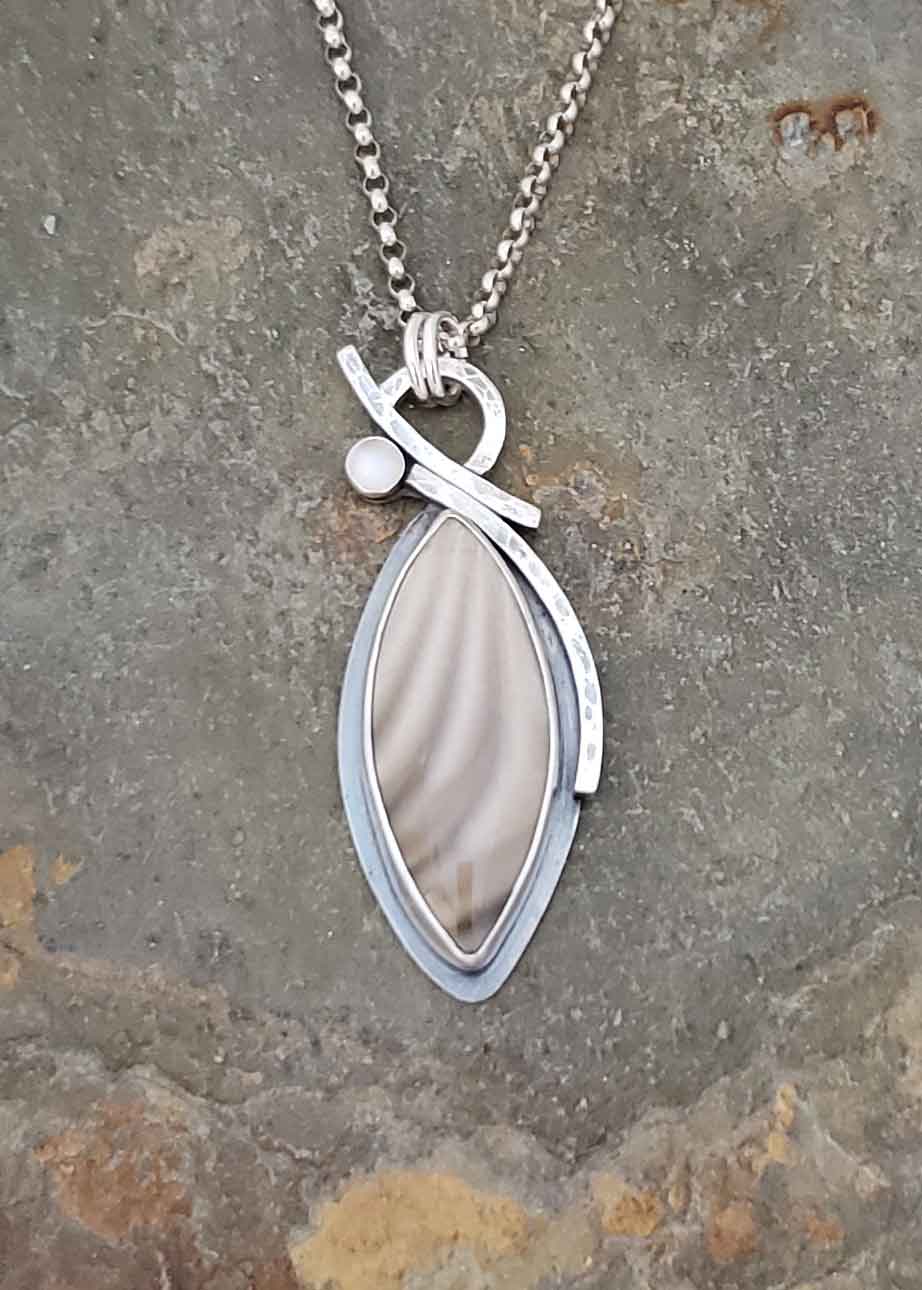 Sands of Time -SOLD
Once upon a time, like 160 million years ago, during the Jurassic Period, Polish Flint was created. Also called Banded Flint, it only occurs in Poland. Polish Flint is known as a grounding stone which helps in self-discovery. Believed to extract the Earth's purest vibrations, increasing one's ability to channel this energy throughout their physical and emotional bodies. Accented with Moonstone which helps to cultivate compassion and empathy.
$285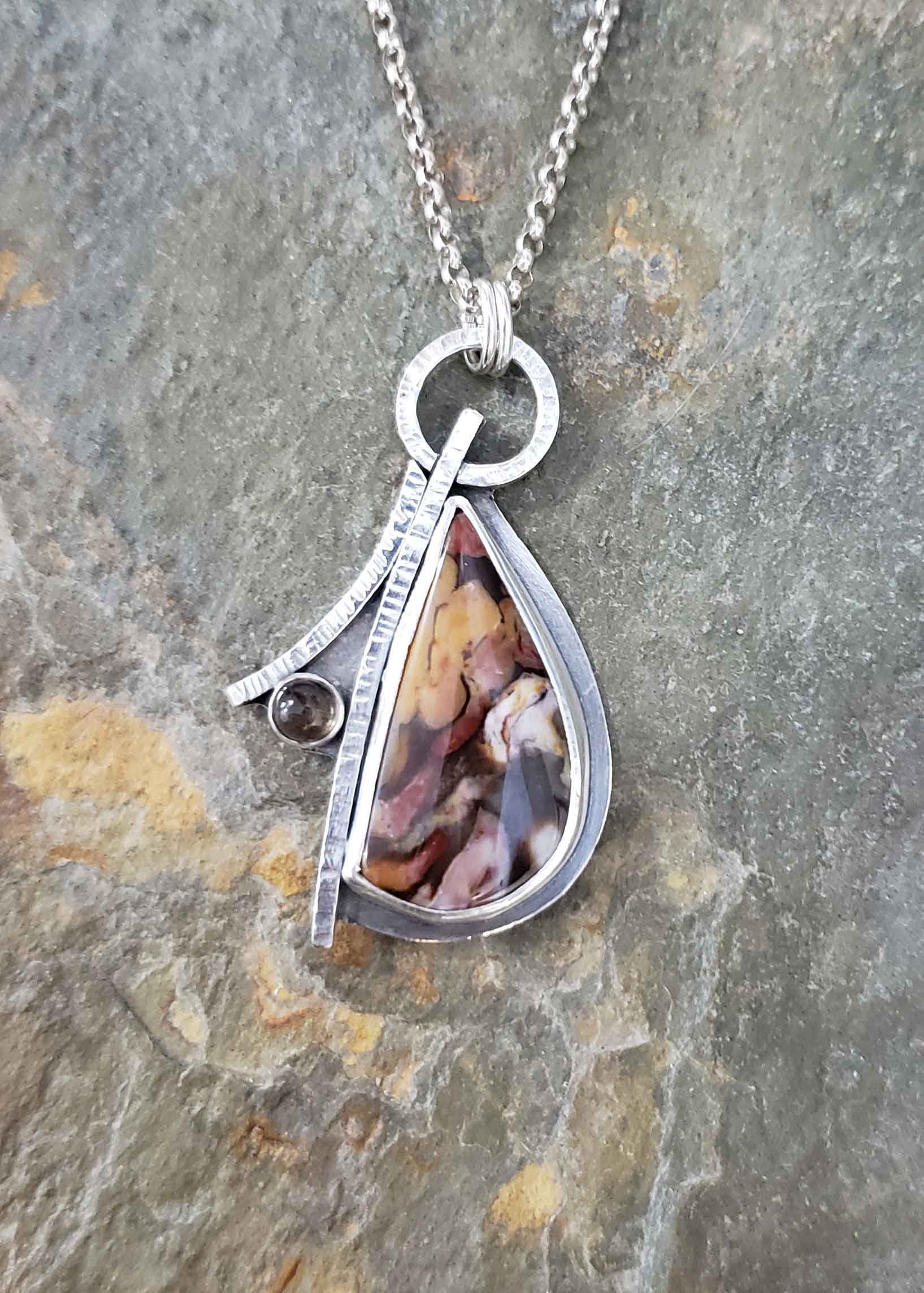 Grounded – SOLD
Once upon a time there were conifer trees growing in an area that is now known as Western Australia. When these trees died, rivers carried them into a shallow, salty sea that covered much of what is now the Australian continent.
Peanut Wood Jasper is also known as the "Stone of the Earth" and is considered a survival stone renowned for grounding and stabilizing emotions. It has been paired with Smokey Quartz disperses fear and relieves stress and anxiety.
$295
Luck of the Draw – SOLD
Once upon a time, recently, at the base of the mountains there sat a studio. In this studio the artist was staring at a piece she was making. She could not decide what stone she should use as an accent stone. She put the stones away and worked on creating the setting. After the Amazonite was set she again sat staring at the different stones. She took pictures of each stone sitting in the setting so she could compare the different looks. Her head told her one thing, her heart said another. In the end… she went with her heart.  Luck of the Draw was created bringing together the striking turquoise of Amazonite and the vibrant purple of Amethyst.
Amazonite is known for brining good luck. Amethyst is a source of power and wisdom.
The pendant is approximately 1 1/2 inch x 1 1/8 inch on an 18 inch chain.
$280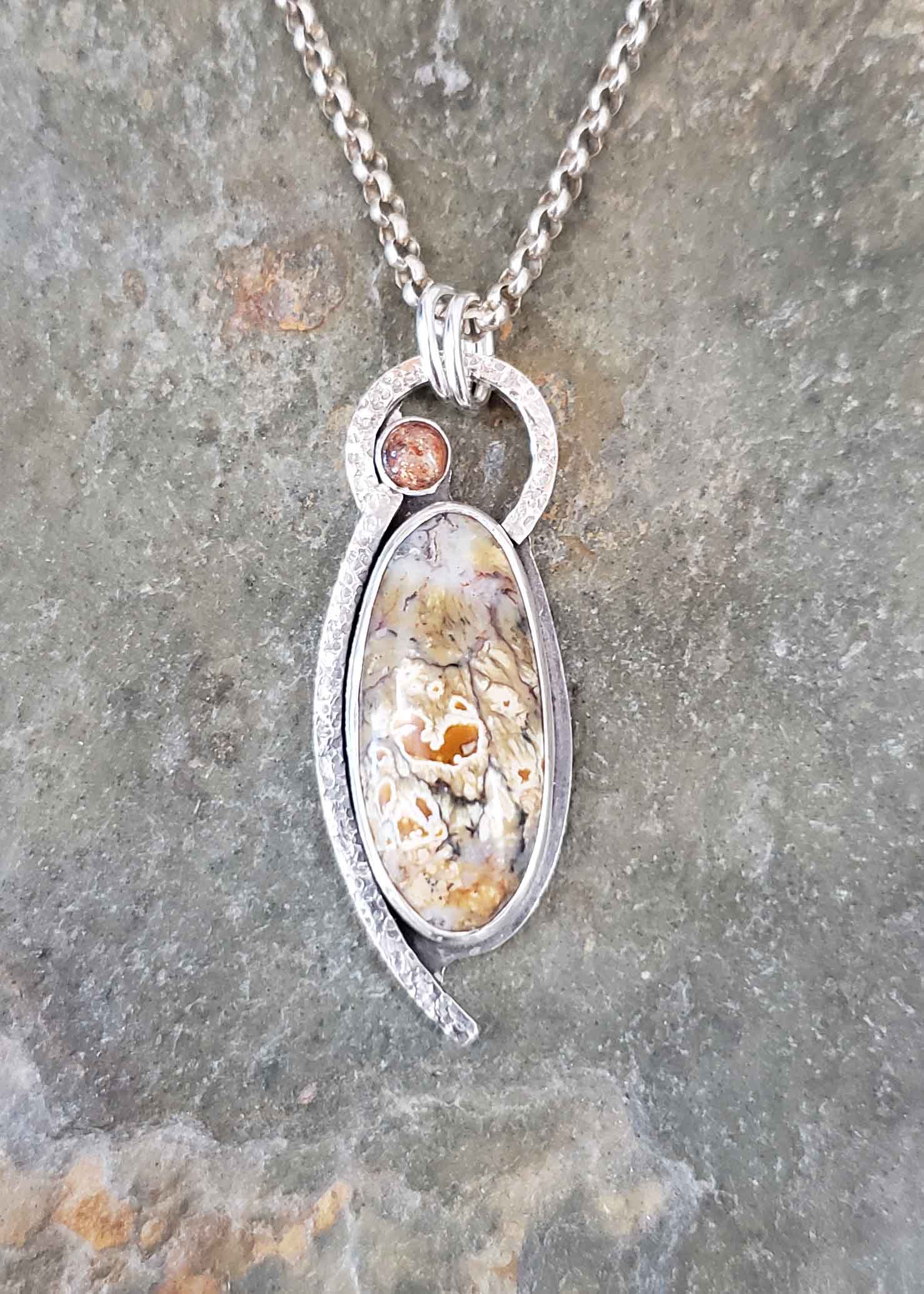 Ancient Dreams -SOLD
Once upon a time was the sun brighter? The grass greener? The air crisper? Ever wonder what it was like when Dinosaurs walked the earth? It is fun to dream.
This dino bone pendant can help you remember to keep dreaming, of the long ago past, of the future, or your next conversation.
$240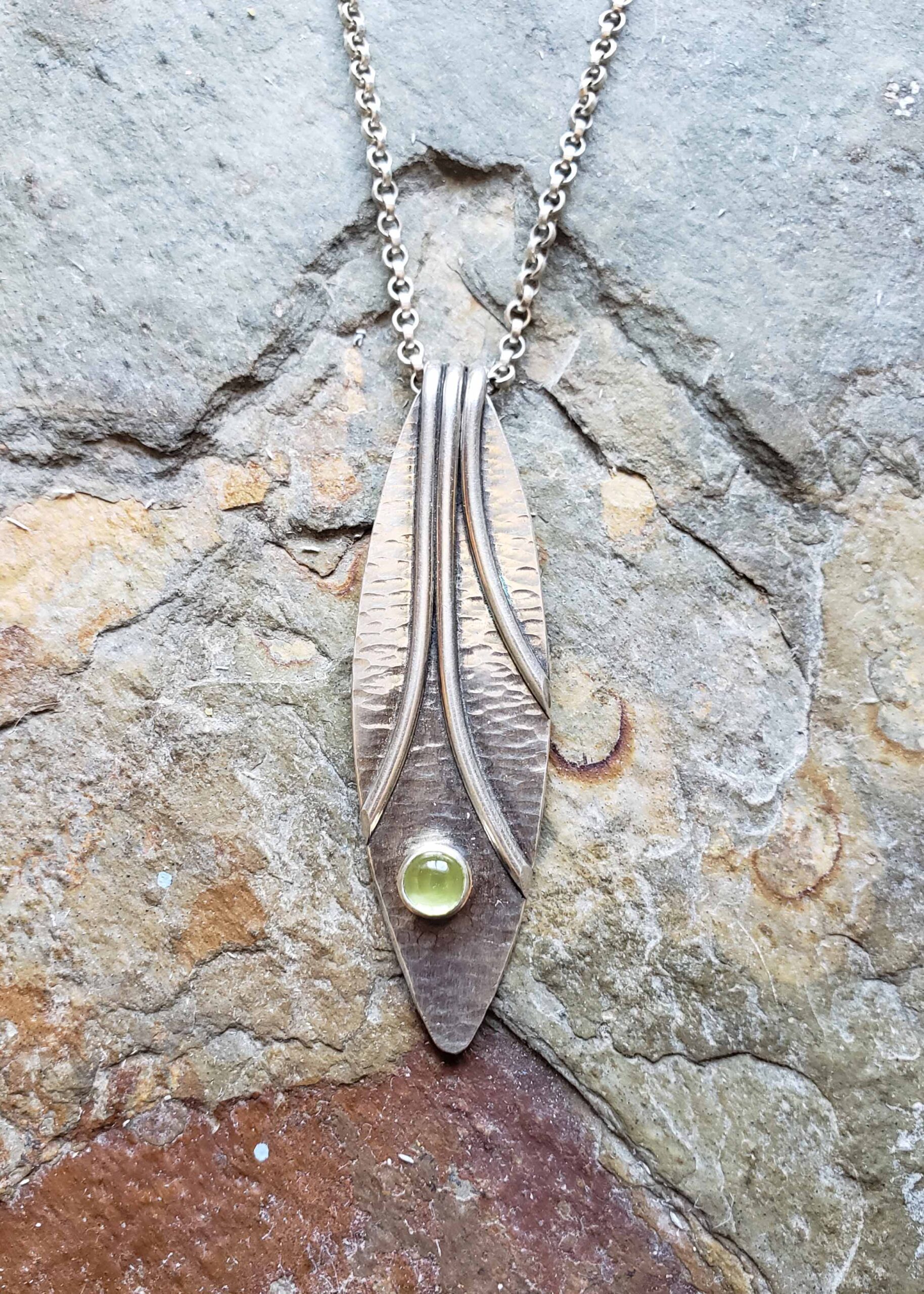 Spring Leaves – SOLD
This pendant is part of the Nasca series which were inspired by ancient sand drawings.
Feel the ancient energies that ran through ancient sand drawings and rock carvings. Can you feel the vibration? Doesn't really matter.
Believe you have more energy and you will. Let this pendant, inspired by the ancient sand drawings remind you to stay focused and positive and draw on that energy within.
$175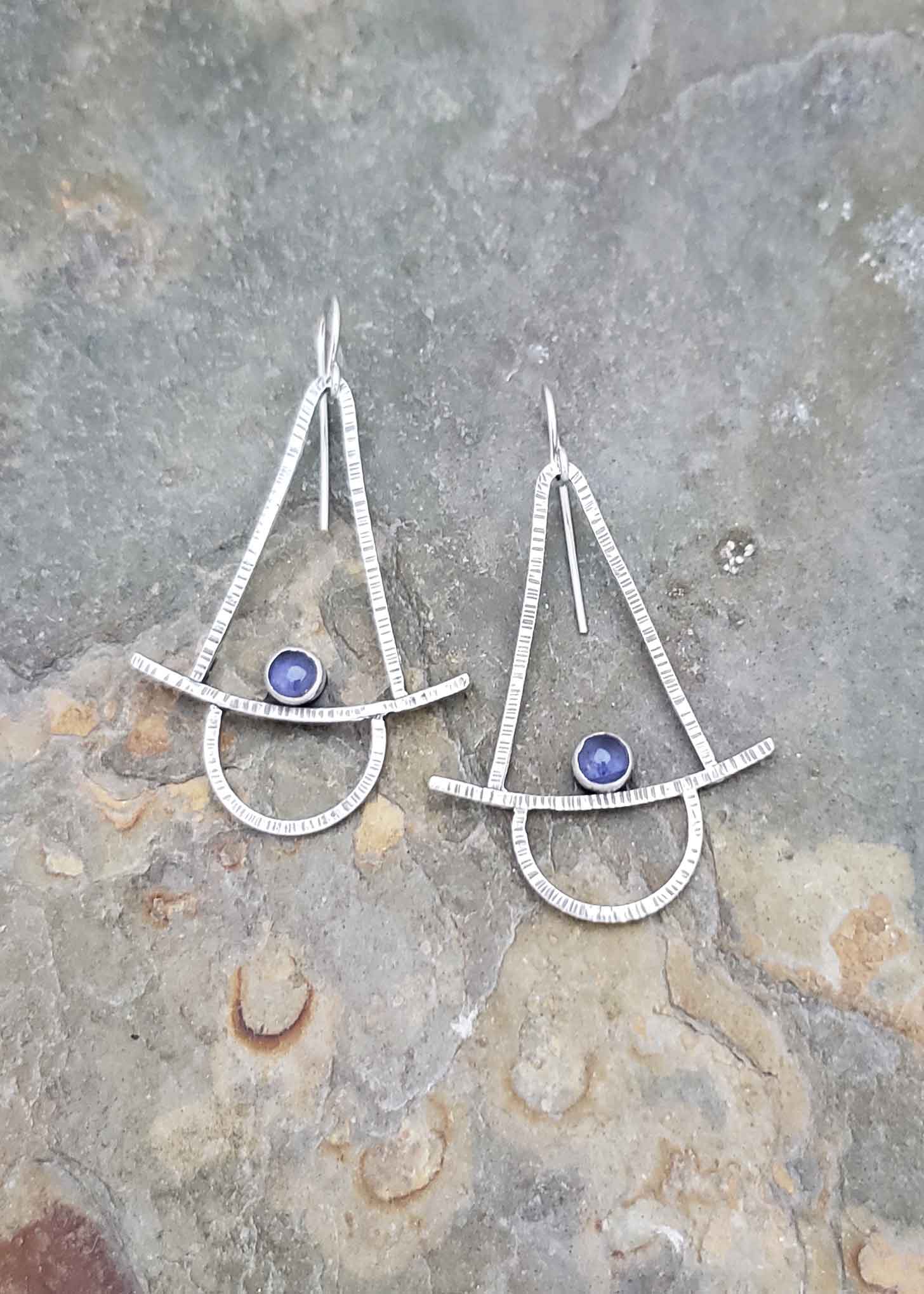 Stability – SOLD
Wear these Iolite anchors to help create more stability in your life. 
Iolite was the Vikings compass. It helped them navigate the seas. Can it help you navigate your life?
$170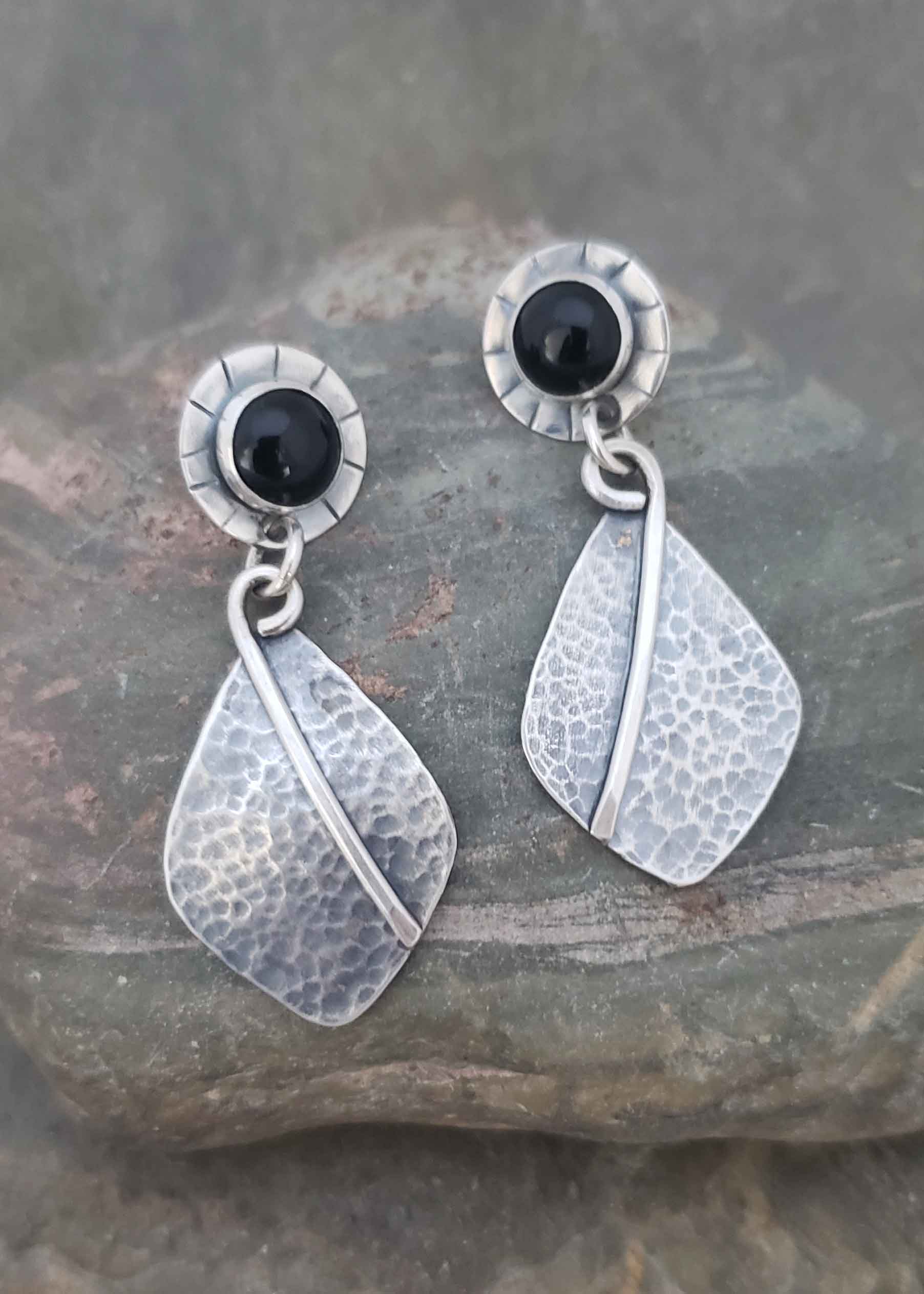 New Moon – available 
New moon is coming up and Onyx is a stone of protection. These earrings are part of the Midnight Series.
$145