I think that it is only fitting that the first Treat Yourself Show for Artistic Souls Gallery is my birthday month. I had a lot of fun creating the pieces for this show.
You can see some of my latest work in my shop.
If you want to see all the amazing artists and artwork that is being presented through the gallery, go to facebook.com/groups/artisticsoulsgallery.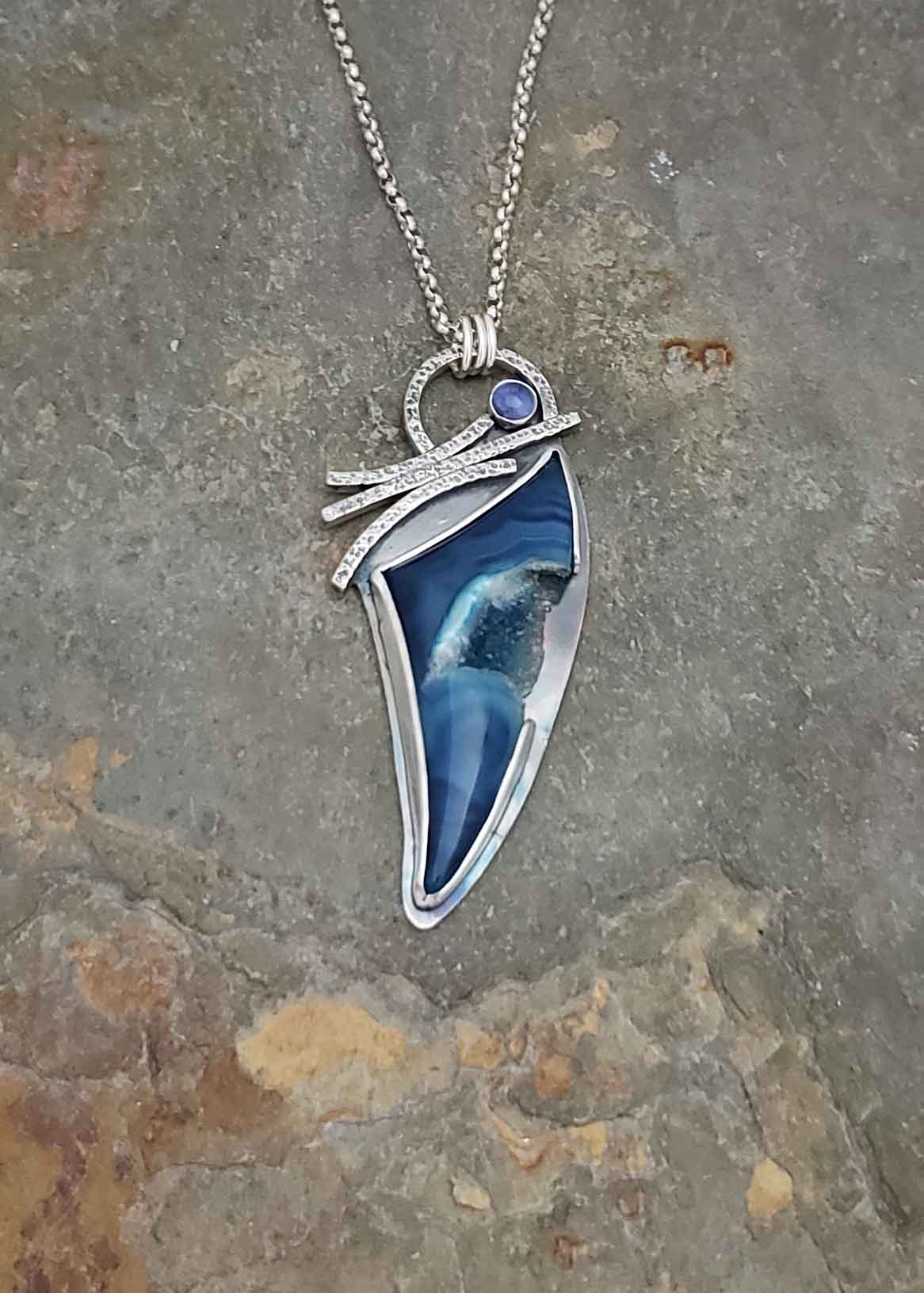 Second Chances – SOLD
This Blue Agate was mined in Brazil back in the 1940s. It has been sitting in my drawer for a long time (no, not since the 1940s). When I first acquired the stone, I designed a setting for it but was never happy with it. A few months ago, as I was cleaning up my studio I decided it was time for a second chance with this stone. And this show seemed like the perfect one to create a new design and setting for this incredibly special stone.
Blue Agate is known for bring calmness and is known as a talisman with great healing energies. It has been paired with Iolite which carries the spirit of journey. Iolite was used by the Vikings to help navigate the seas.
The pendant is approximately inch 2 3/4 x 1 1/8 inch on an 24 inch chain.
$545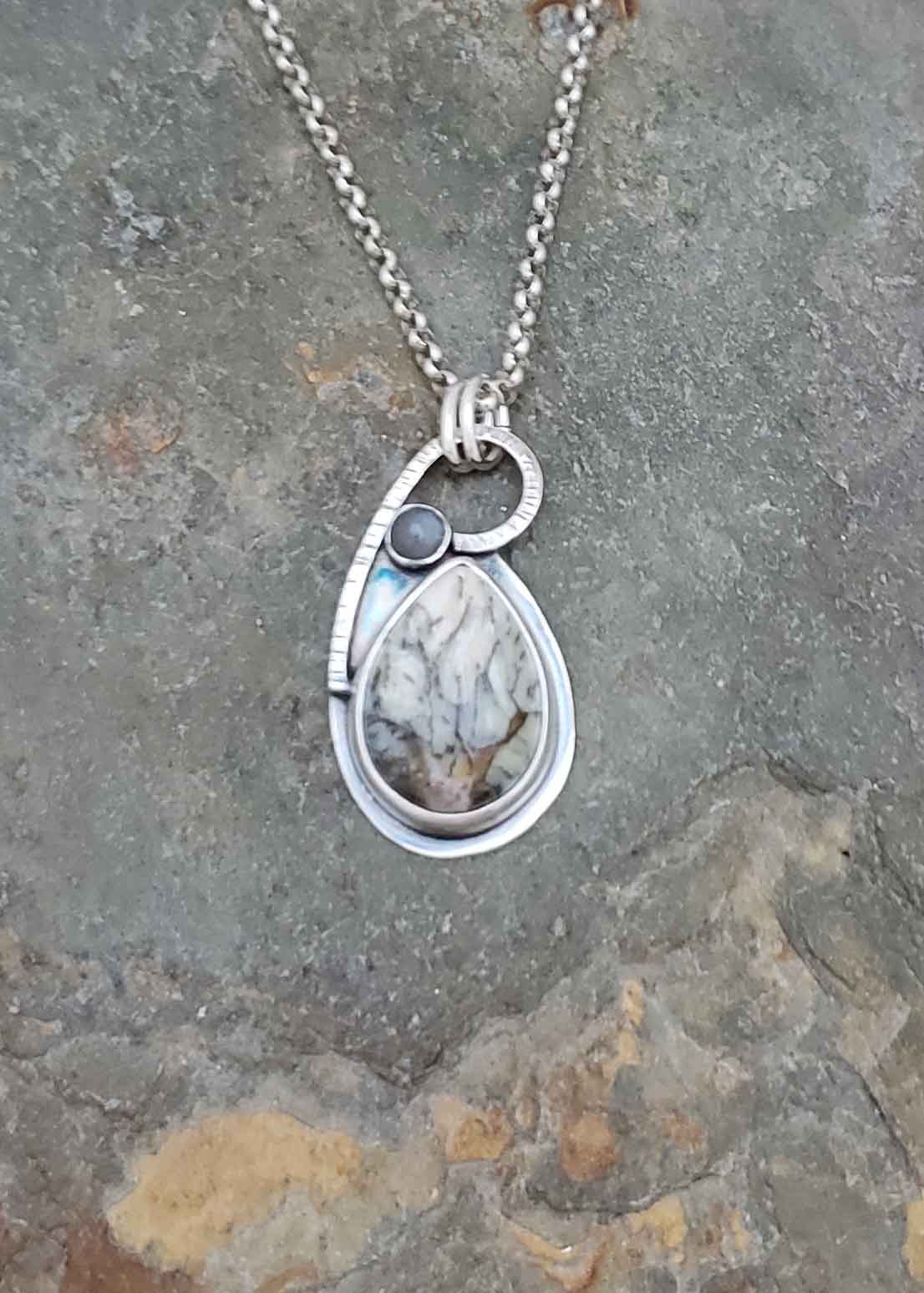 In the Mist – SOLD
This Merlinite stone is a special stone with its unique misty tree. I must admit it is one of the only pieces I have seriously had second thoughts about letting go of. The tree, the blue flames in the branches, the Silver Moonstone… this is one of my favorites.
Merlinite is a dendritic opal, but only comes from a mine outside of Lordsburg, NM. It is known as the magic bearer, a stone of duality that can strengthen intuition. It is paired with a Silver Moonstone which provides energies to calm and provide strength for our life journey.
The pendant is approximately 1 1/4 inch x 3/4 inch on a 18 inch chain.
$245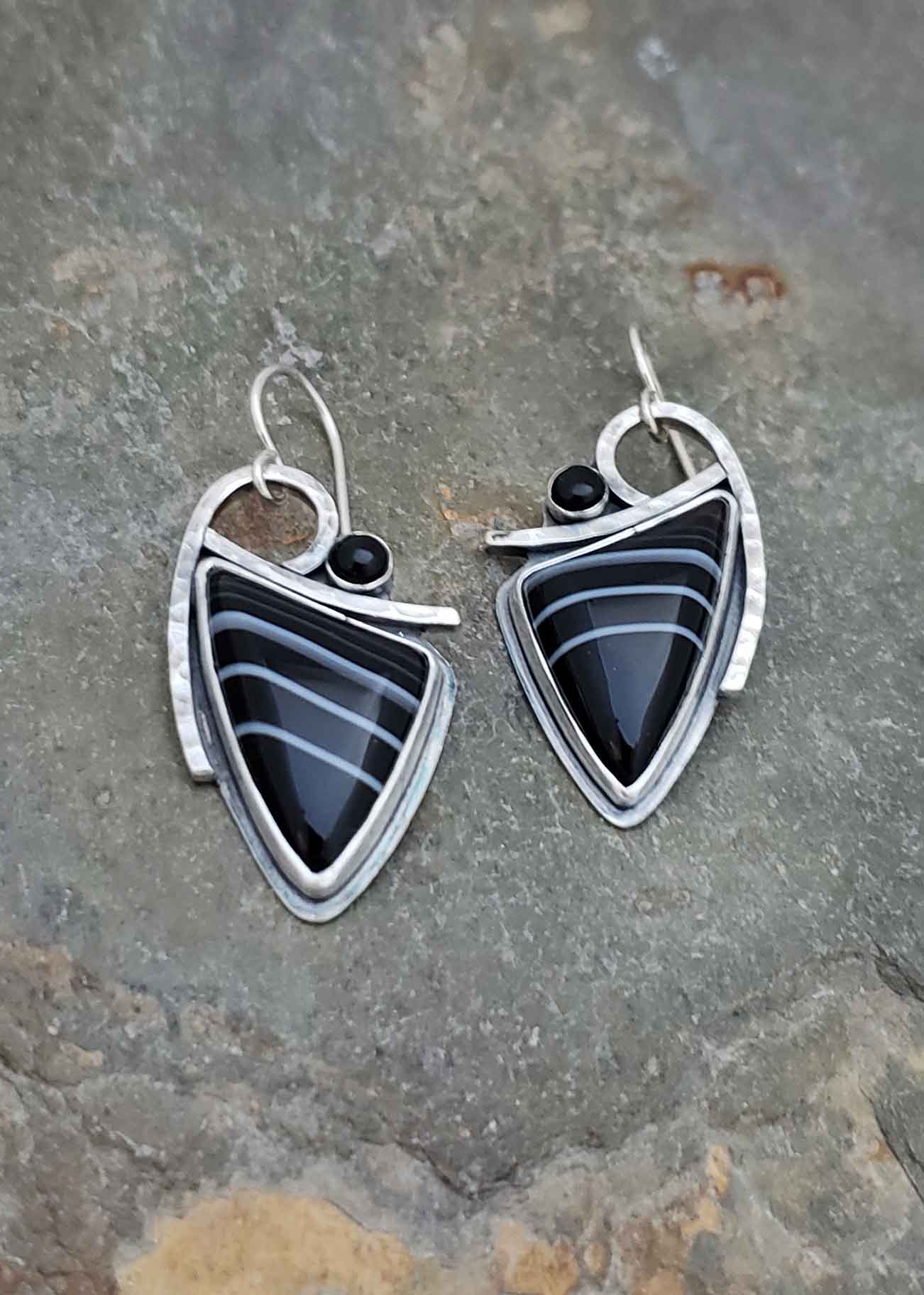 Starlight -SOLD
These Sardonyx stones remind me of the night sky… the trail of the stars as the earth rotates…. What do you dream of when you look up into the night sky and see all the stars?
Sardonyx is a stone of protection and strength. It is paired with Onyx with is known to improve self-confidence, helping to put you at ease with your surroundings.
$250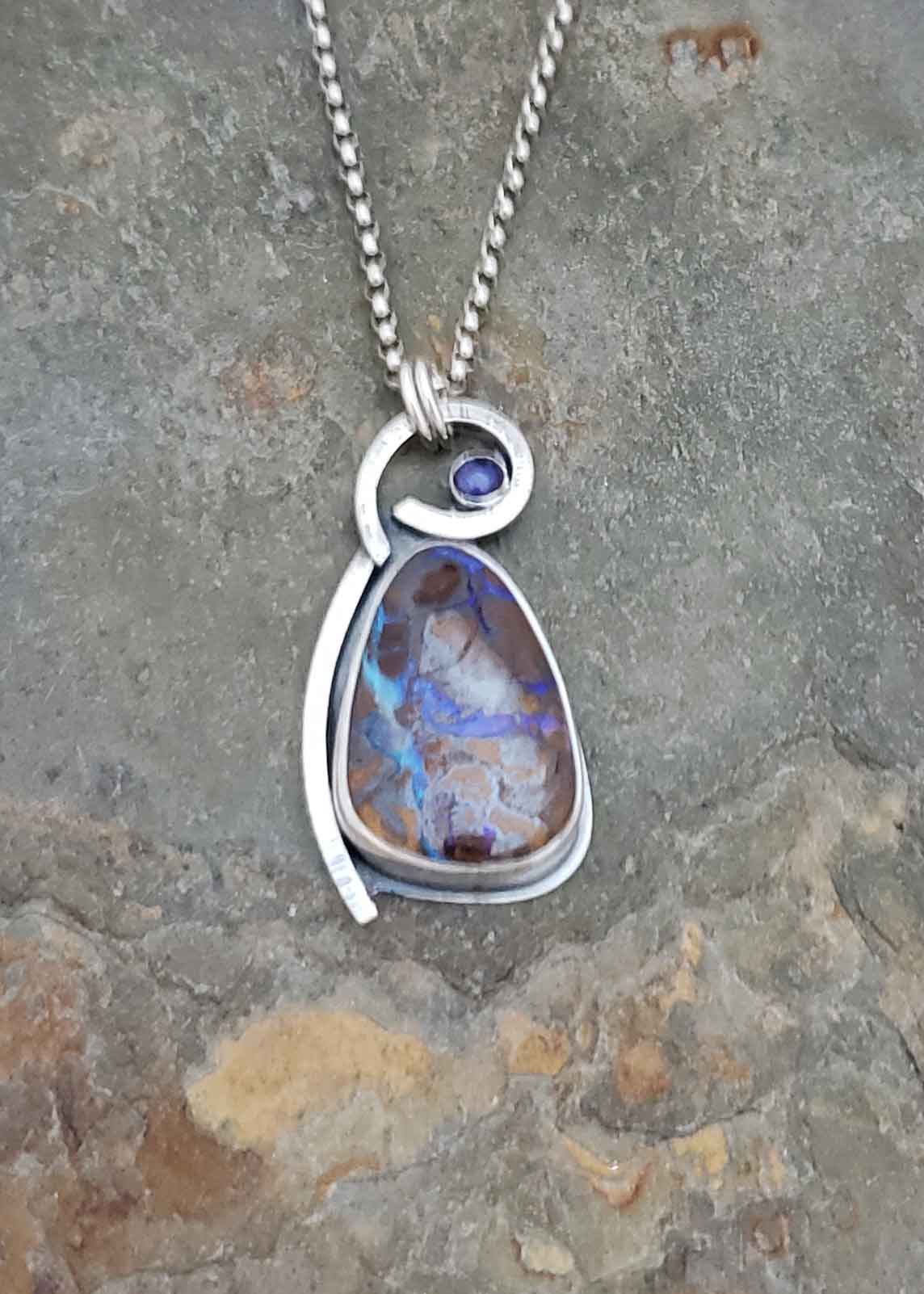 River's Bend – SOLD
I just love the earthiness of Bolder Opal with the browns then shot through with fire. Or the water flowing through the rocks to quench the soil for new growth.
The energy of Boulder Opal is about creating the future. It is said to support success and help achieve dreams. Iolite is the stone of journeys, as the Vikings used the stone to help navigate their voyages.
The pendant is approximately 1 5/8 inch x 3/4 inch on a 18 inch chain.
$325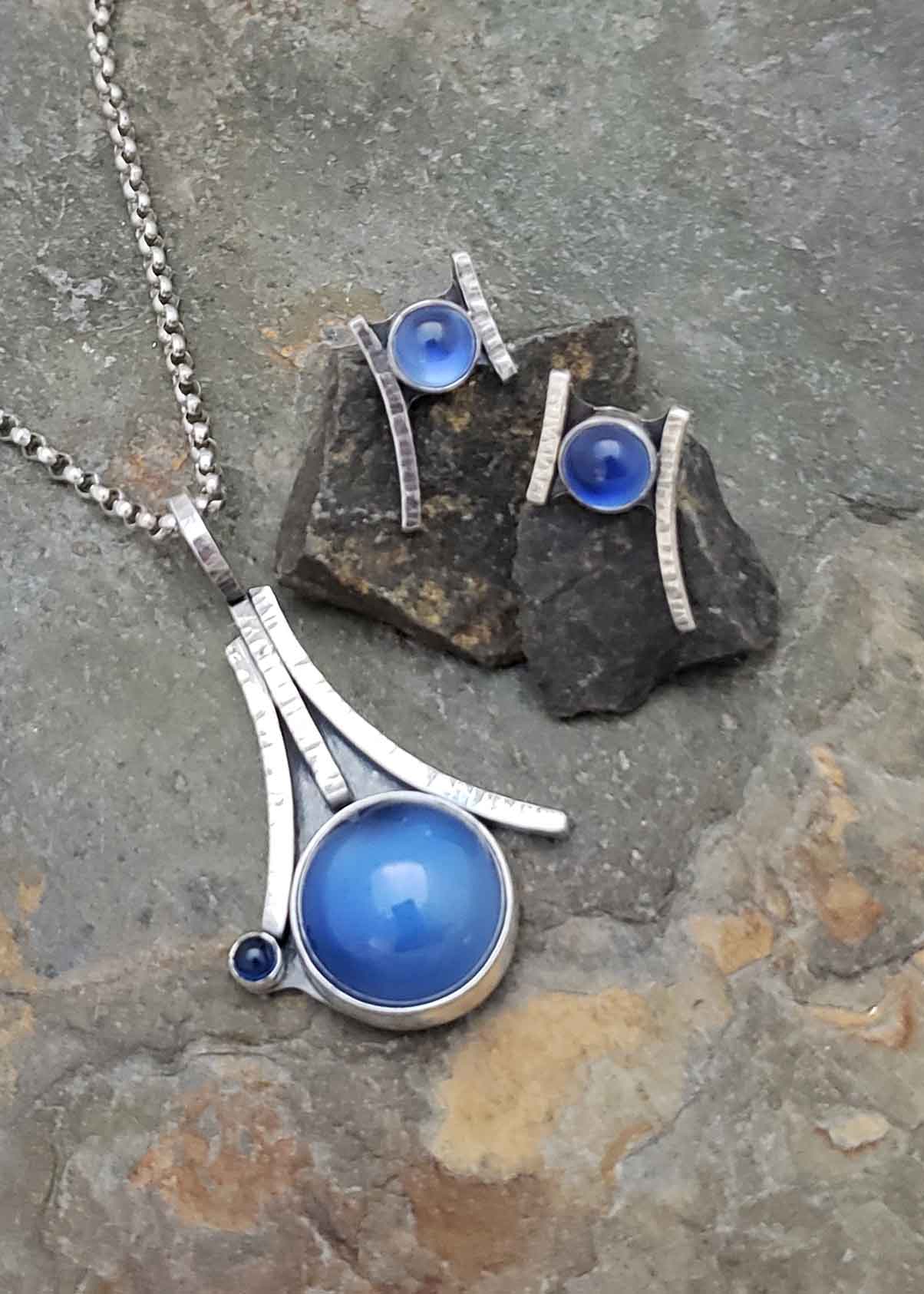 Glow – SOLD
This set is all about the Glow. The larger three Lab-created Sapphires are set over Mother of Pearl to bring an ethereal glow to the stones. Wear them together or separately to bring a bit more glow to your day.
Lab-created sapphires are made using corundum, just like the nature gemstone and carries the same properties. Sapphires are known to restore balance within the body, aligning the physical, mental, and spiritual aspects, bringing lightness and joy.
$375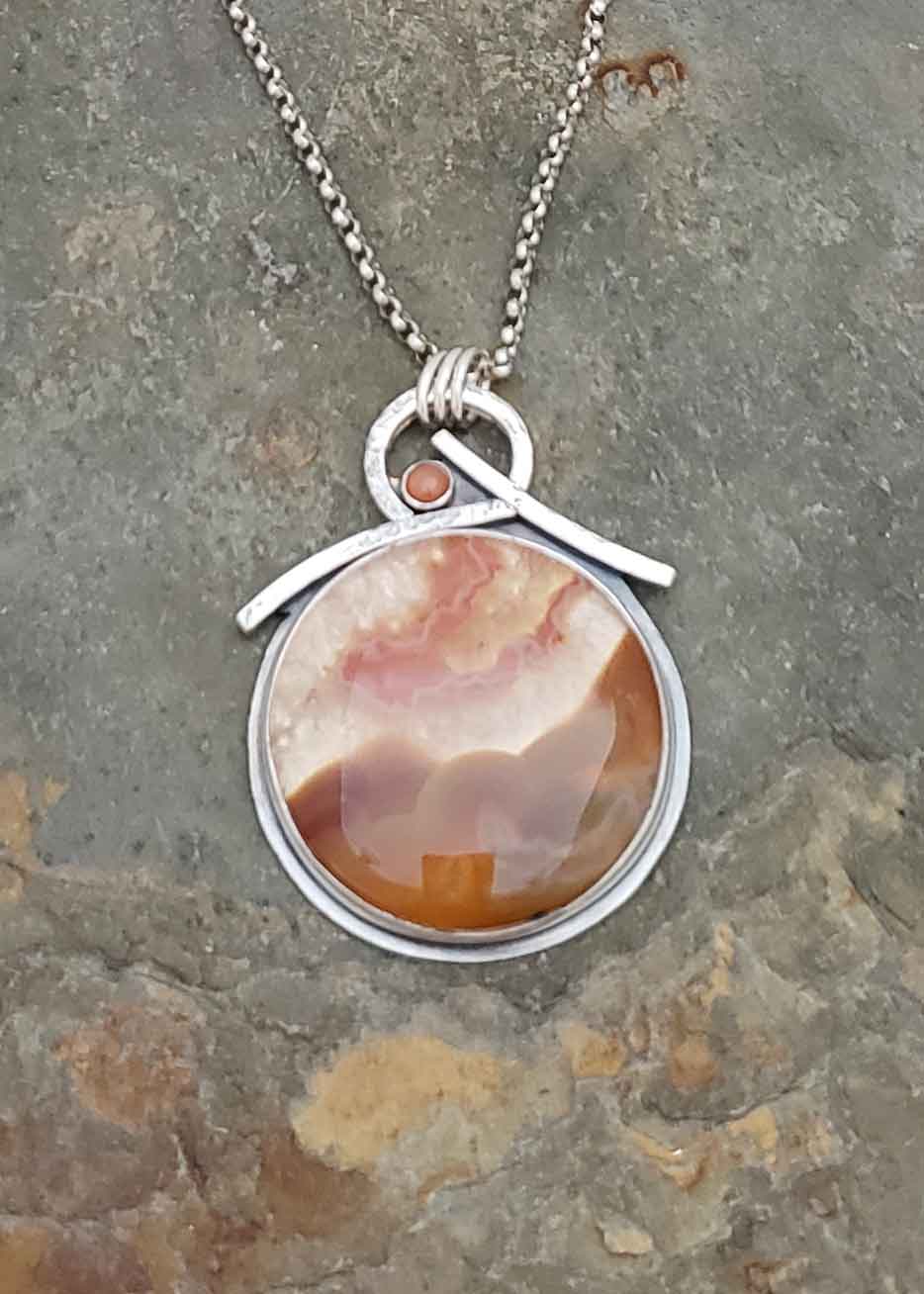 Sky of Delight -SOLD
That old saying of "red skies at night", well here it is in the form of an agate, capturing the glory of the sunlit clouds over the mountains. Complemented with the fiery color of the sun in Peach Moonstone.
$345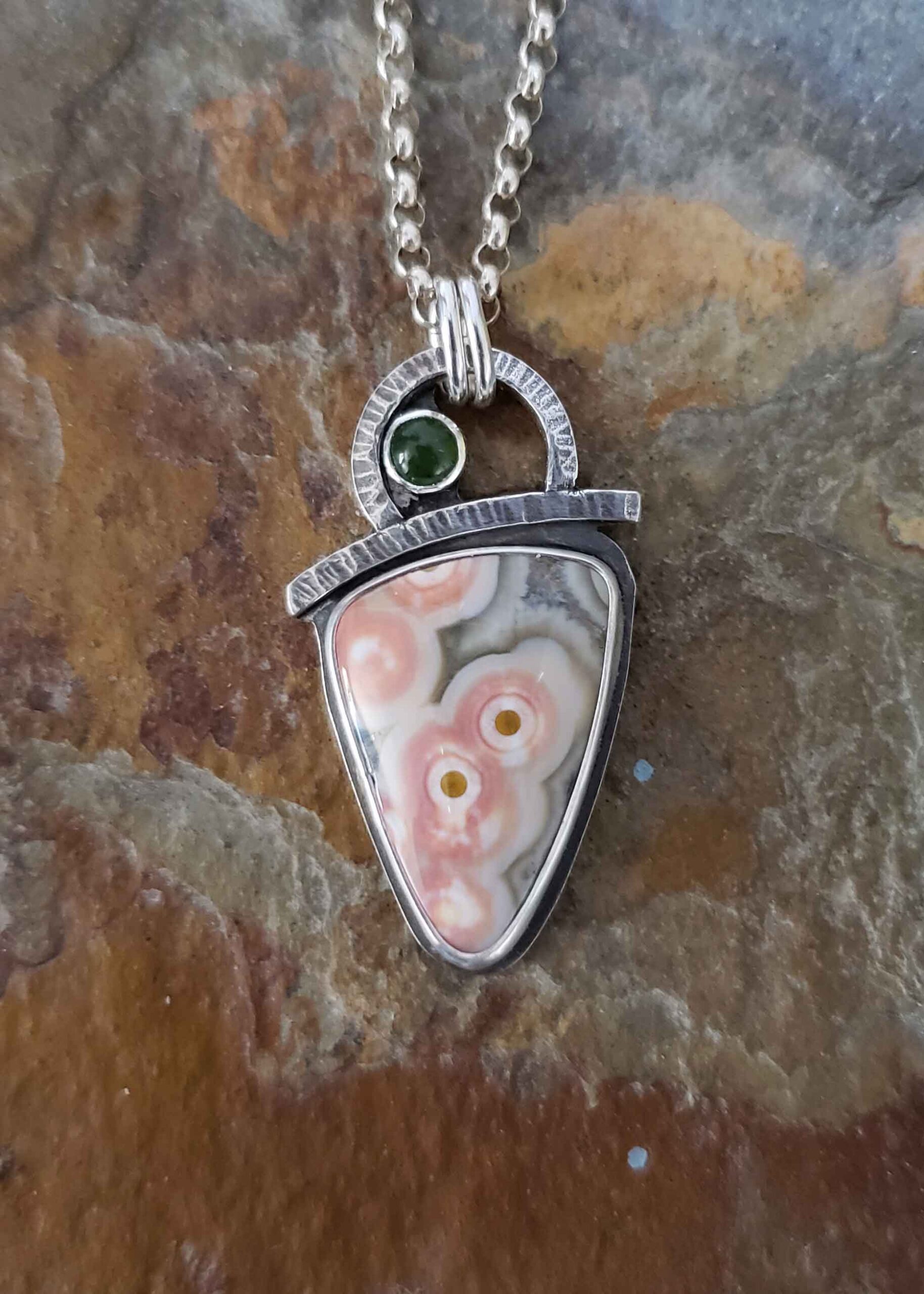 Evolving – SOLD
I love the spring time colors and the circles of growth in this Ocean Jasper.
Ocean Jasper is believed to hold mystic knowledge within its structure, bringing the wearer spiritual wisdom. Nephrite Jade is known as the dream stone and connects to ancient wisdom.
$270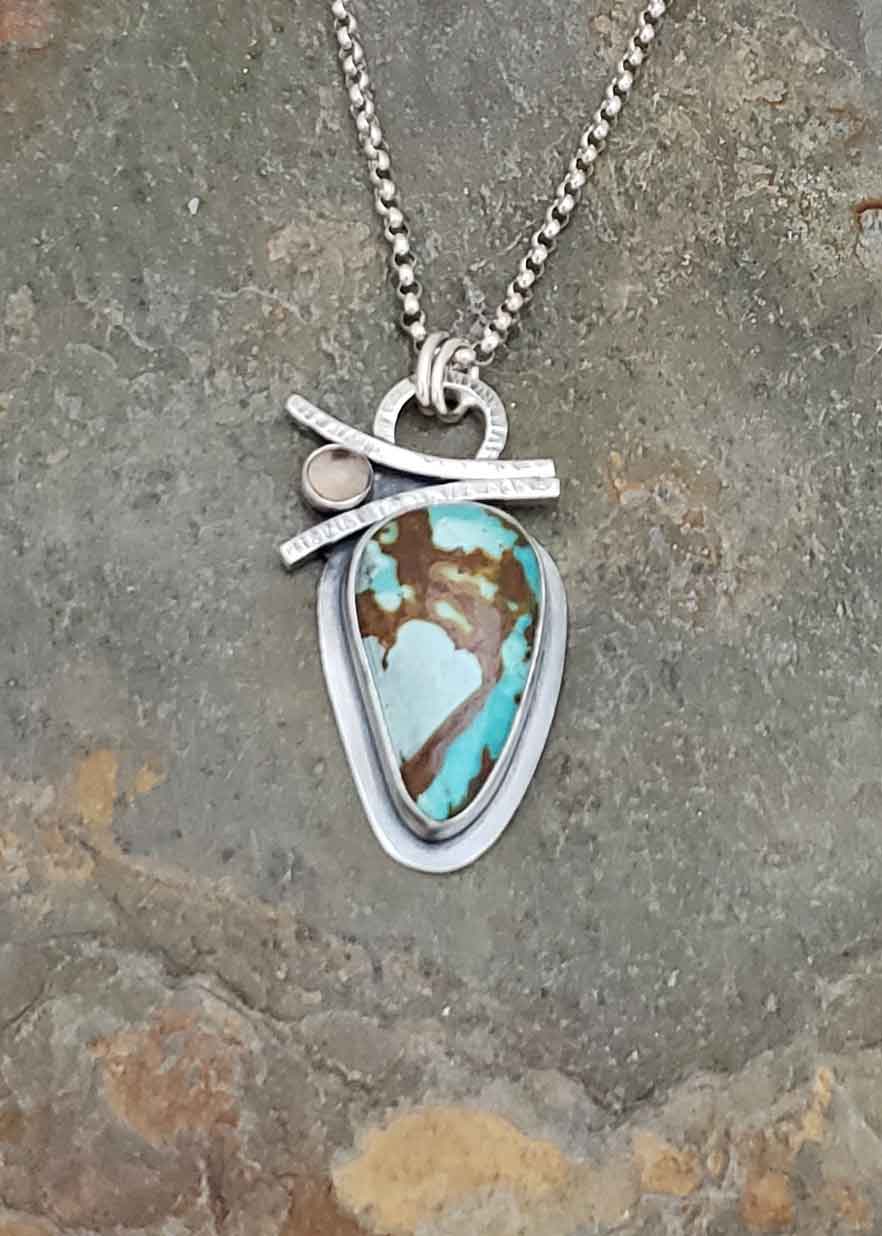 Bringing Wisdom – SOLD
As we journey through life, wisdom becomes a more sacred commodity. Turquoise has been used as a stone of wisdom by many cultures.
Pilot Mountain Turquoise is known for its heavy brown veining. It is from a small mining operation east of Mina, Nevada.
Since ancient times, Turquoise has been known to represent wisdom, tranquility, and hope. Smokey Quartz is a grounding stone relieving stress and anxiety.
$325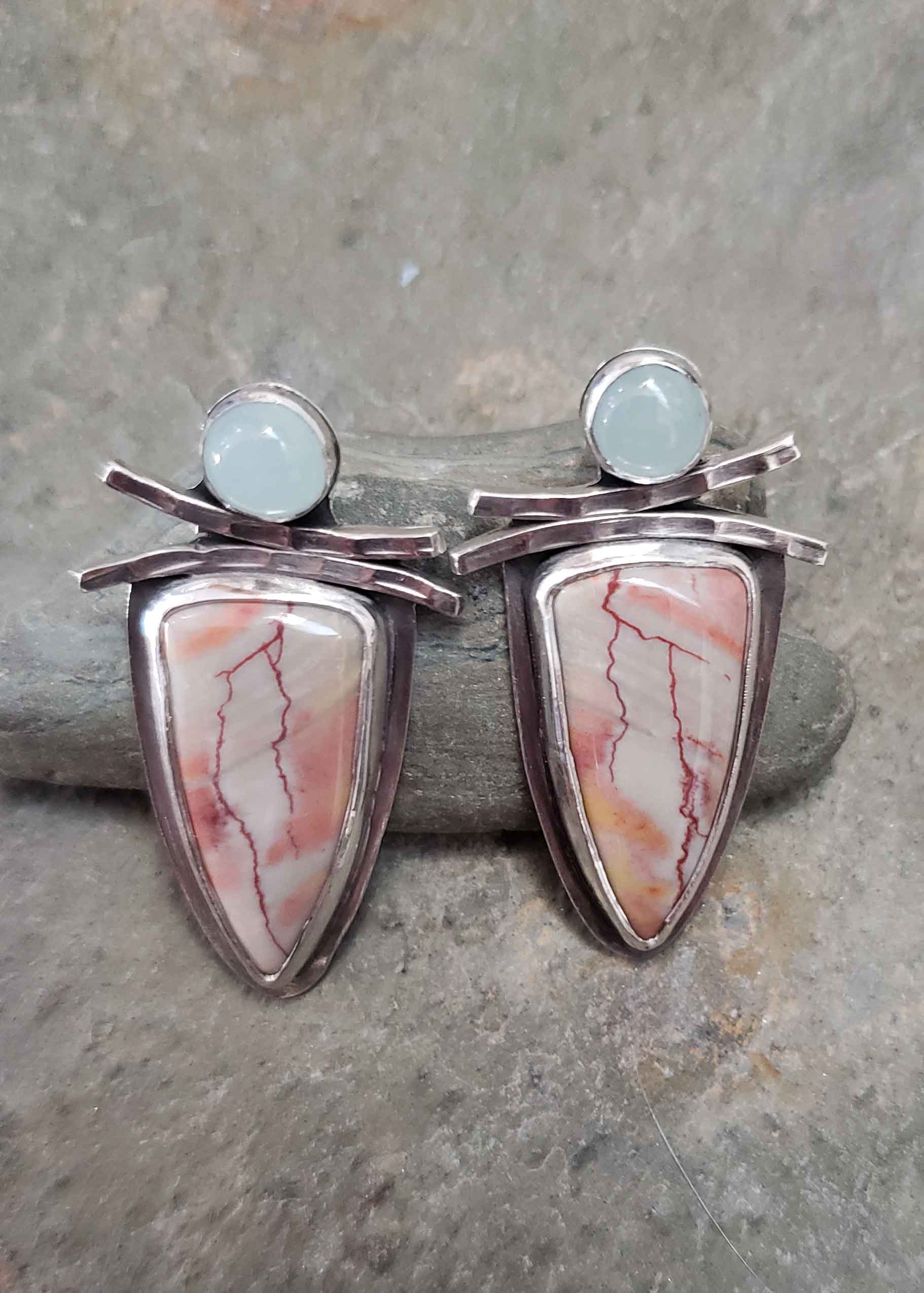 Like Lightening – SOLD
Do you love to watch lightening? These earrings can bring that electric energy to your everyday. In soft colors reminiscent of springtime skies.
Lahontanite is also known as Springtime Jasper. It comes from the Lahontan Lake region of Nevada. It has been paired with Aquamarine.
$260