Well, we are already into February and the year is ramping up to be a good one. Here are the pieces from the February Artisan Souls Gallery show.
You can see some of my latest work in my shop.
If you want to see all the amazing artists and artwork that is being presented through the gallery, go to facebook.com/groups/artisticsoulsgallery.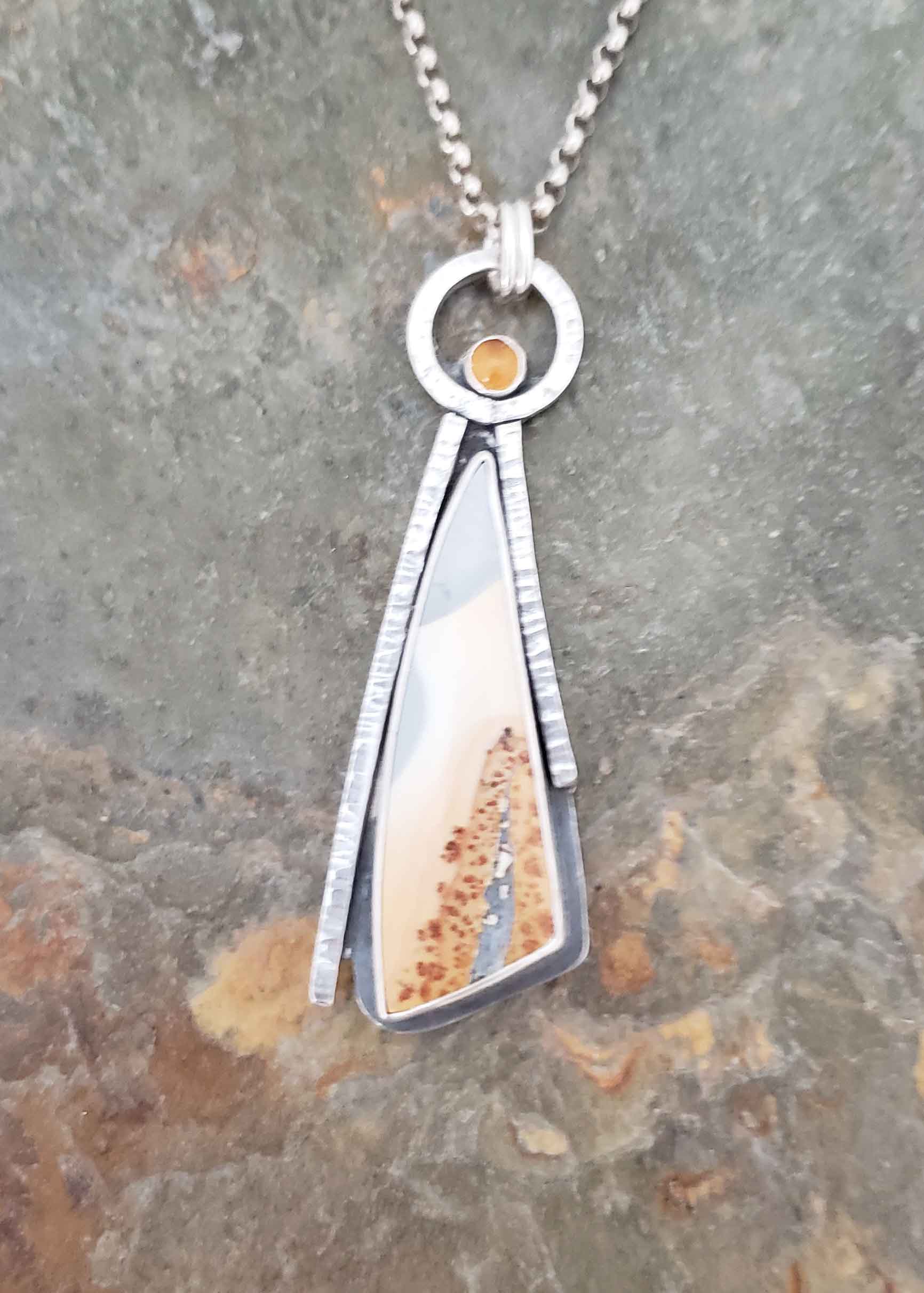 Emergence – SOLD
There are some bumps in our paths, and at times it doesn't seem to make sense. But when we step back and look at where we have been and where we are going we can begin to see the true beauty of our lives.
Maligano Jasper shows off Mother Nature's wonderful artistic side, being formed in ancient volcanic hot springs, it often has beautiful scenes. It is a stone of protection against negativity and is great for grounding. Citrine is known for attracting prosperity and success.
The pendant is approximately 2 1/8  inch x 3/4 inch on an 18 inch chain.
$260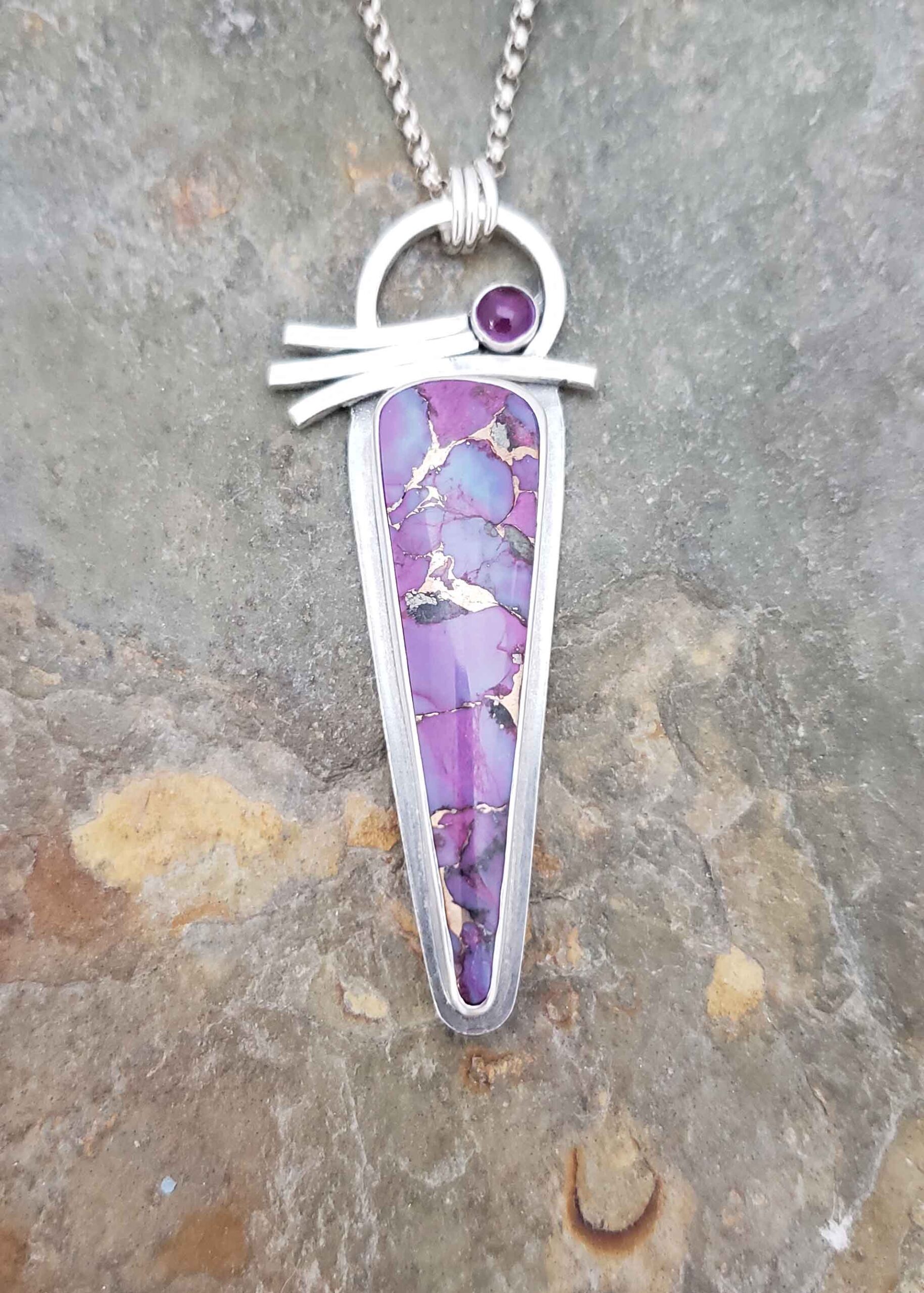 Apogee – SOLD
This is a stone I have tried to design around a number of times and have always returned it to the drawer…just not ready to bloom. Sometimes it takes a few tries, just like in our lives, and when we are ready we can soar.
The purple turquoise, which is actually a composite stone comes from the Kingman Turquoise Mine in Arizona and is color enhanced and infused with bronze to give it's unique properties. Because of the coloration, Amethyst pairs perfectly with it.
The pendant is approximately 2 5/8  inch x 1 inch on an 24 inch chain.
$340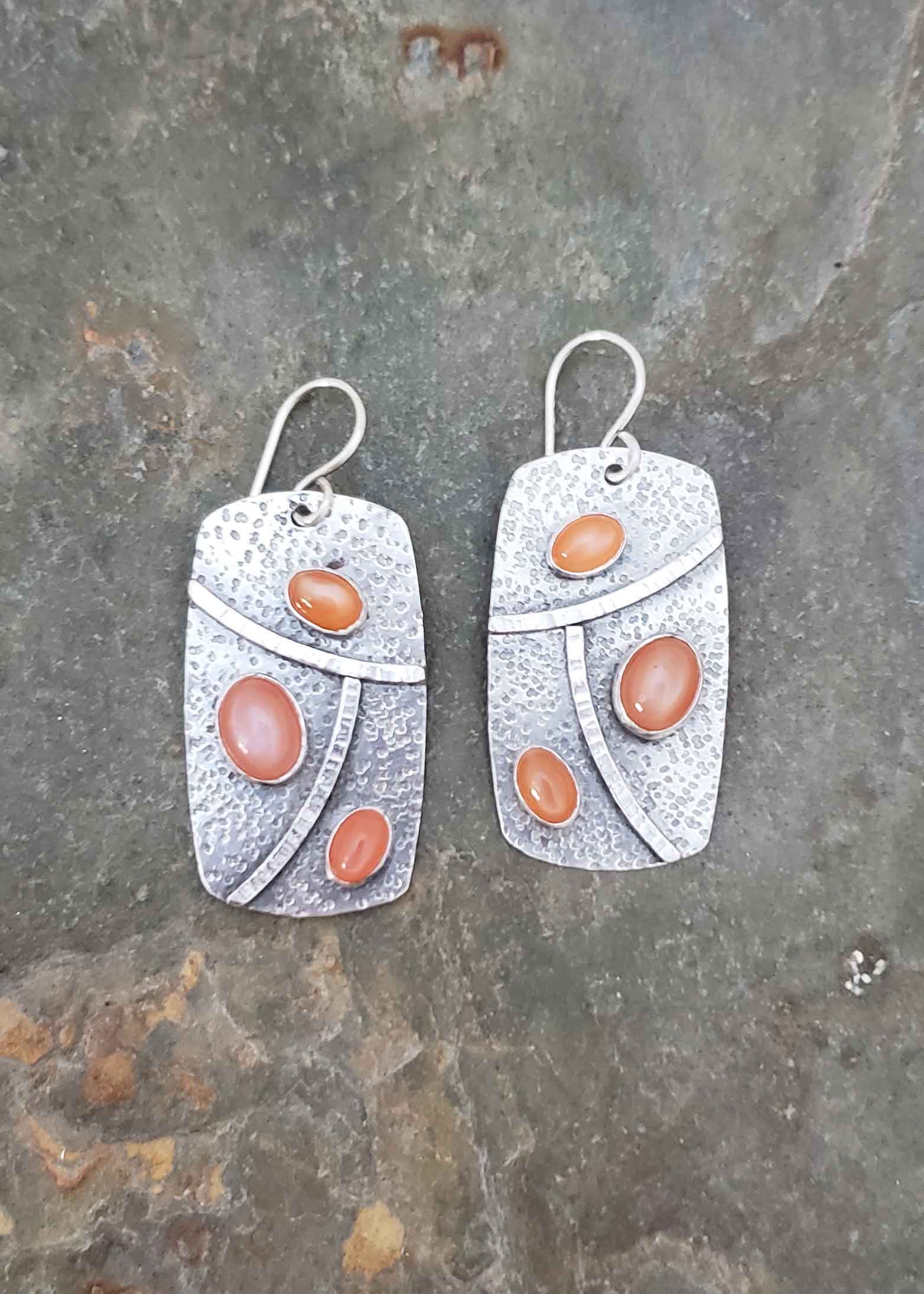 Peach Moonstone Earrings -SOLD
I love winter, but I think I am ready for spring to start peeking out. These stones remind me of some of the first flowers that popped up in our yard last spring.
Peach Moonstone is known for its soothing energy. Something we can all use in these times.
$150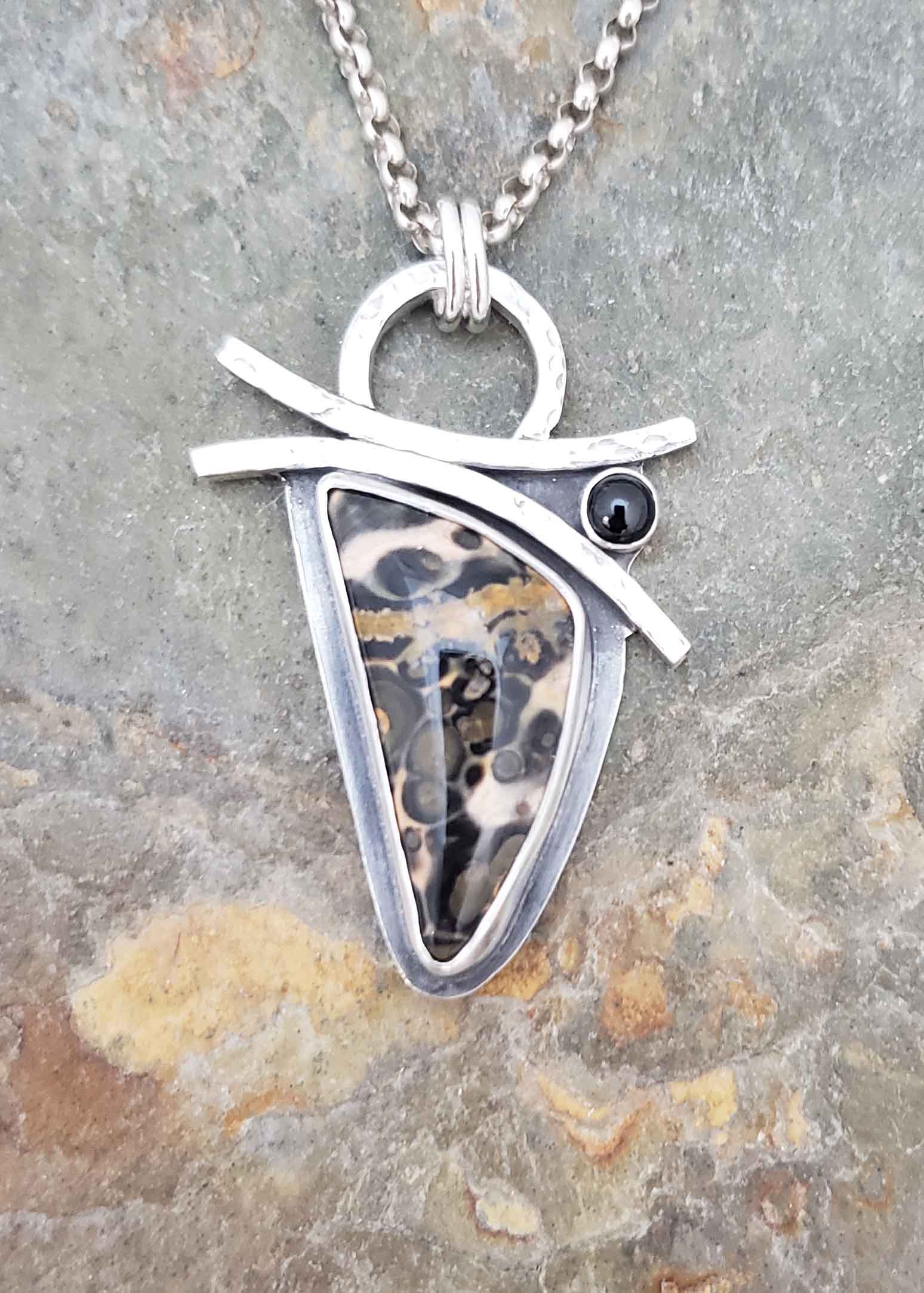 Emergence – SOLD
This Orbicular Jasper reminds me of the emergence of spring as the snow begins to melt and the stones are the first to reveal themselves. As much as I love winter and snow, it is always a joyful time as the snow disappears, the stones appear, and then the grasses begin to grow and the wildflowers bloom.
Orbicular Jasper is a stone of joy and renewed enthusiasm for the cycles of life. Here it is enhanced with an accent stone of Black Spinel which is a protective and grounding stone which evokes inspiration.
This pendant is approximately 1 1/2 inch x 1  inch on an 18 inch chain
$235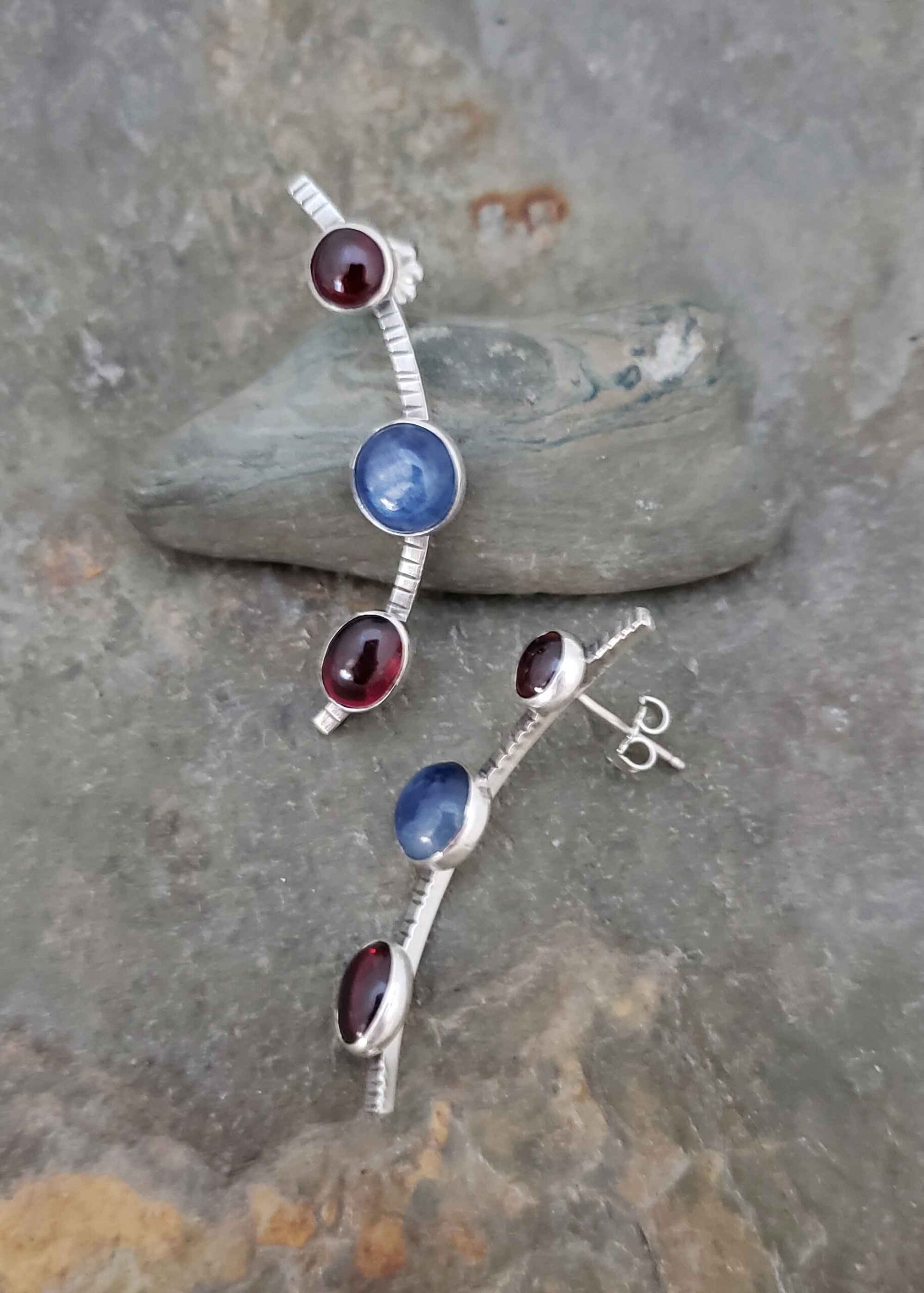 Three's a Charm – SOLD
In addition to have three stones, I changed the stone selection three times before the earrings felt right.
Garnet have long been symbols of love. And Kyanite is known for aligning, balancing and clearing all the chakras.
$160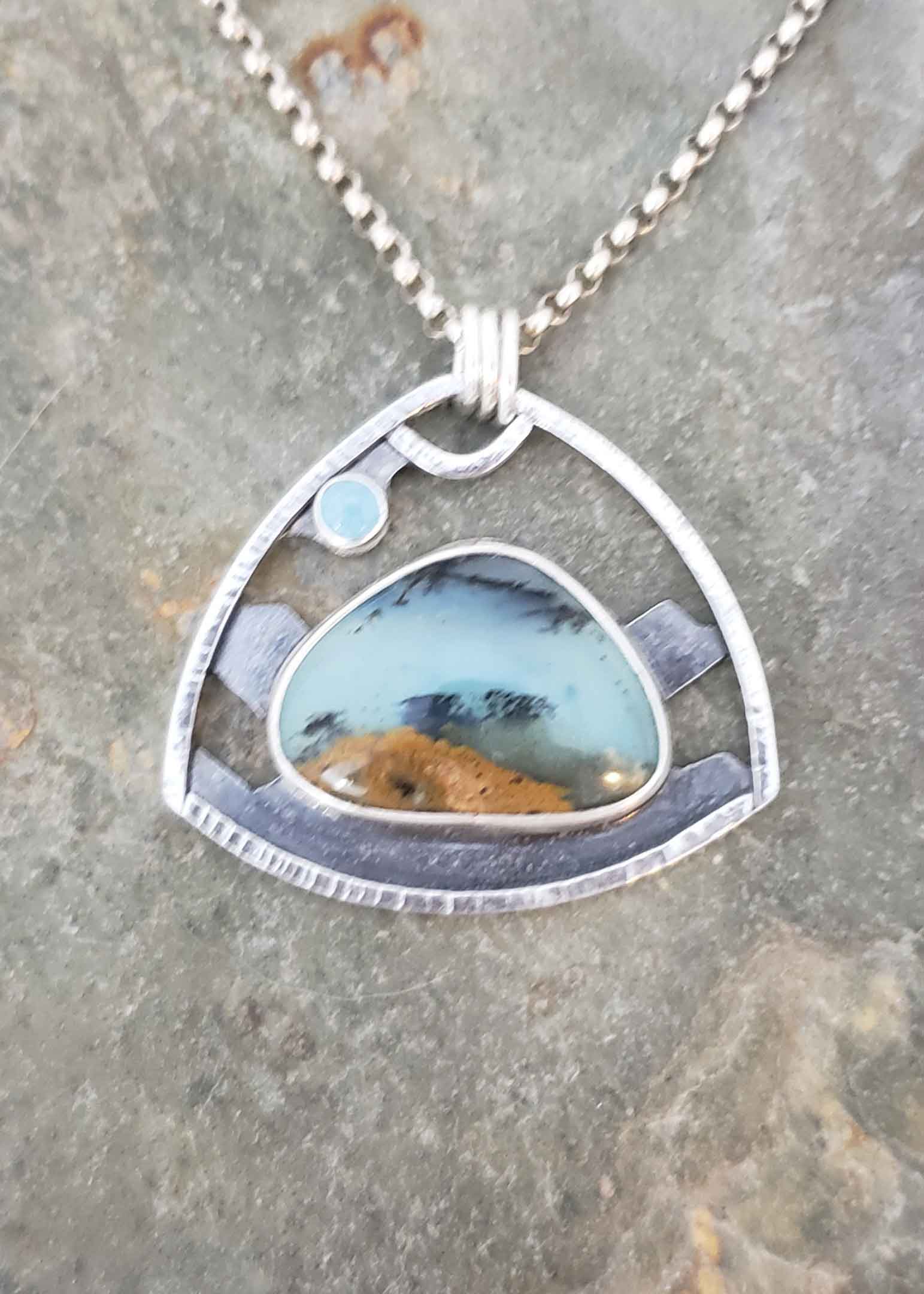 Moon Mountain – Coast Line -SOLD
Did I mention I love the coast? The sounds of the waves crashing on the shore, the rugged terrain… yeah, I love the northern coast, where the wind blows and you taste the salt in the air.
This pendant is part of the Moon Mountain Series.
Peruvian Opal is known for reducing stress and helps the wearer approach the future with a heightened sense of tranquility. Aquamarine in this pendant doubles down on these qualities by adding its own properties of relieving stress, bringing peace, and calming the heart.
$265