I have been participating in the Artistic Souls Gallery since June this year. This December I was also a guest artist at Fusion Gallery. Here are the items from that show.
You can see some of my latest work in my shop.
If you want to see all the amazing artists and artwork that is being presented through the gallery, go to facebook.com/groups/artisticsoulsgallery.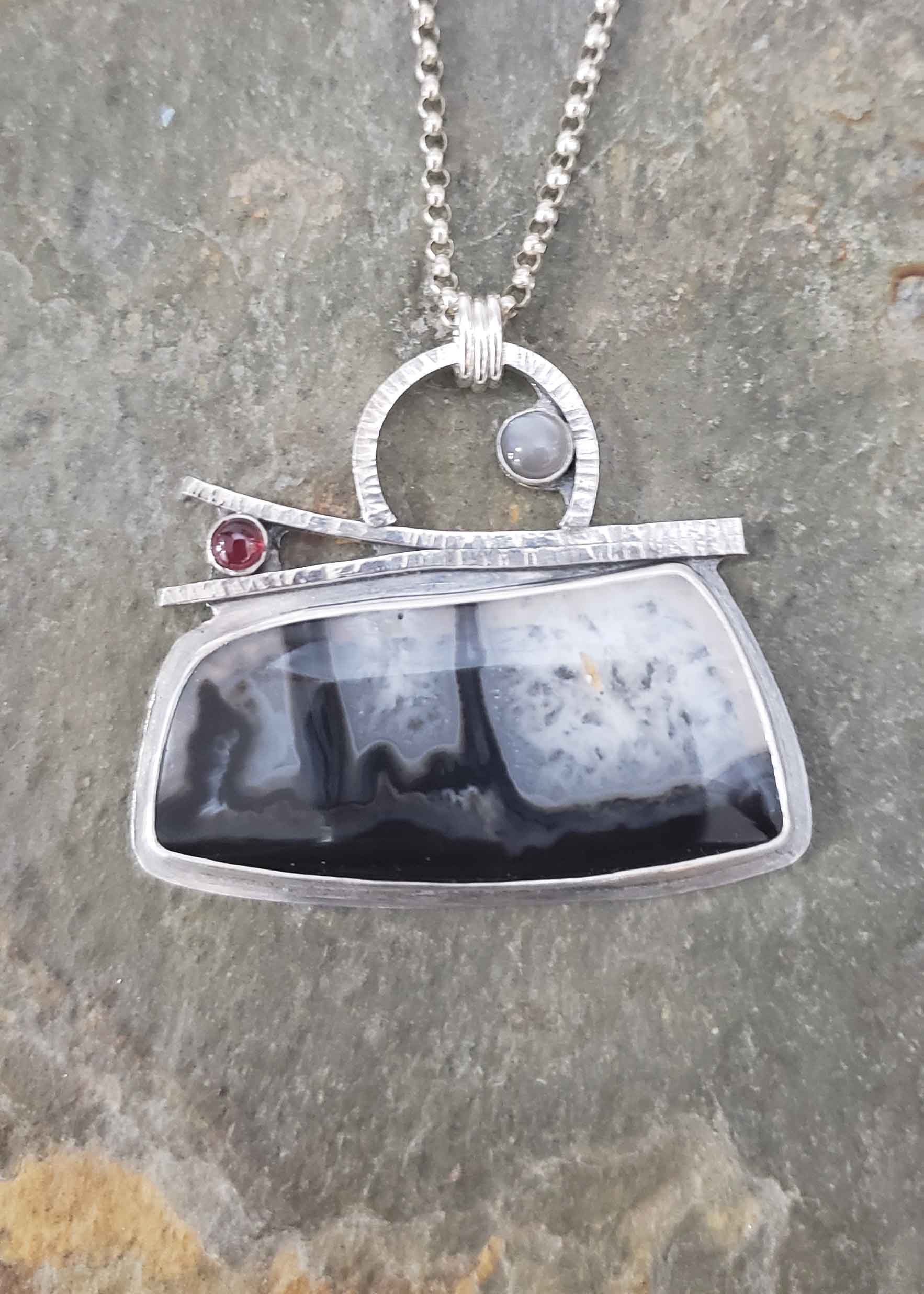 Our Darkest Hours – SOLD
This piece is all about celebrating change and the miracles in our lives.
A number of years back we were evacuated from where we were living as a wild fire was headed straight for us. Everything burned except our house and our backyard. This stone reminds me of that time and the beauty of the changed landscape, the starkness, the red sun, the silvery moon, the new growth and wildflowers, and the return of all the forest animals.
This is a pretty unusual focal stone. It's an agate that was collected in Brazil in the 1940s and cut by my favorite stone cutter who lives in Idaho. It is accented with silver moonstone and garnet.
$375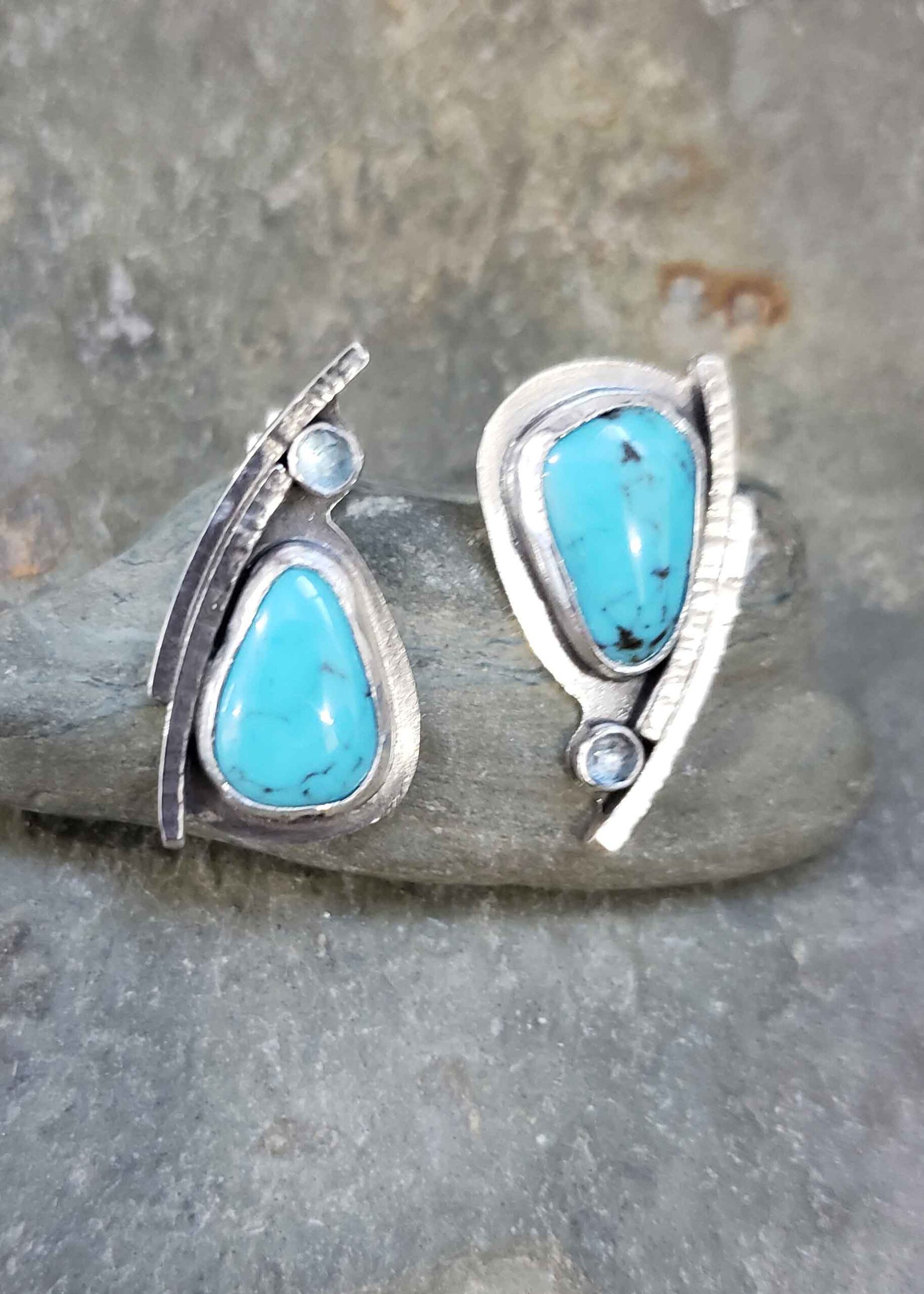 Upside Down Earrings – SOLD
Elegant, yet fun. These turquoise earrings are set upside down from one another. A fun little eye catcher with a bit of sparkle added by the rose-cut topaz. Who knows what conversation they could kick up.
$175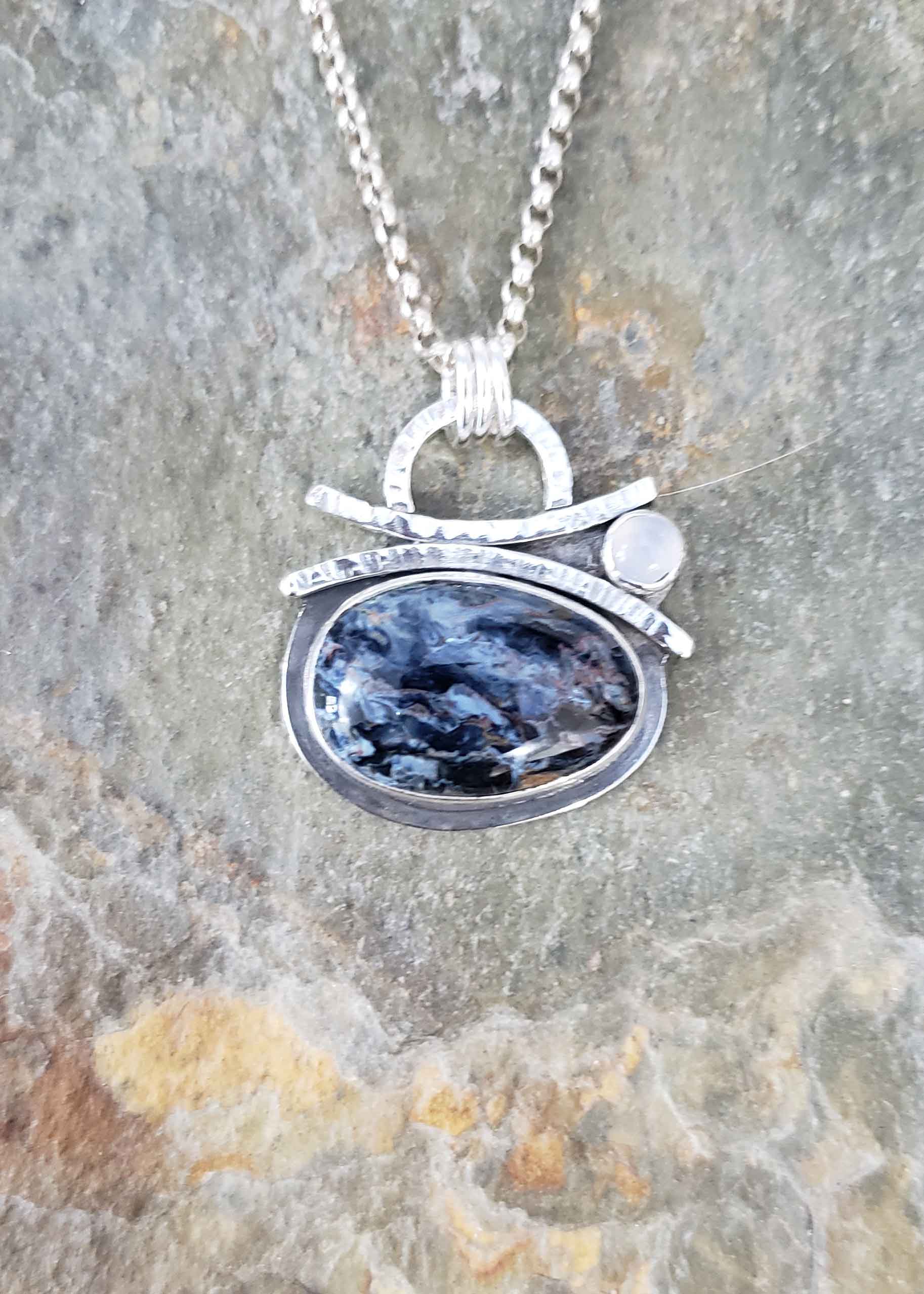 Moonlit Seas – SOLD
I always celebrate when I find a great stone. And what could be better than finding a stone and being on the coast? And this stone reminds me of looking out over the fathomless ocean.
$195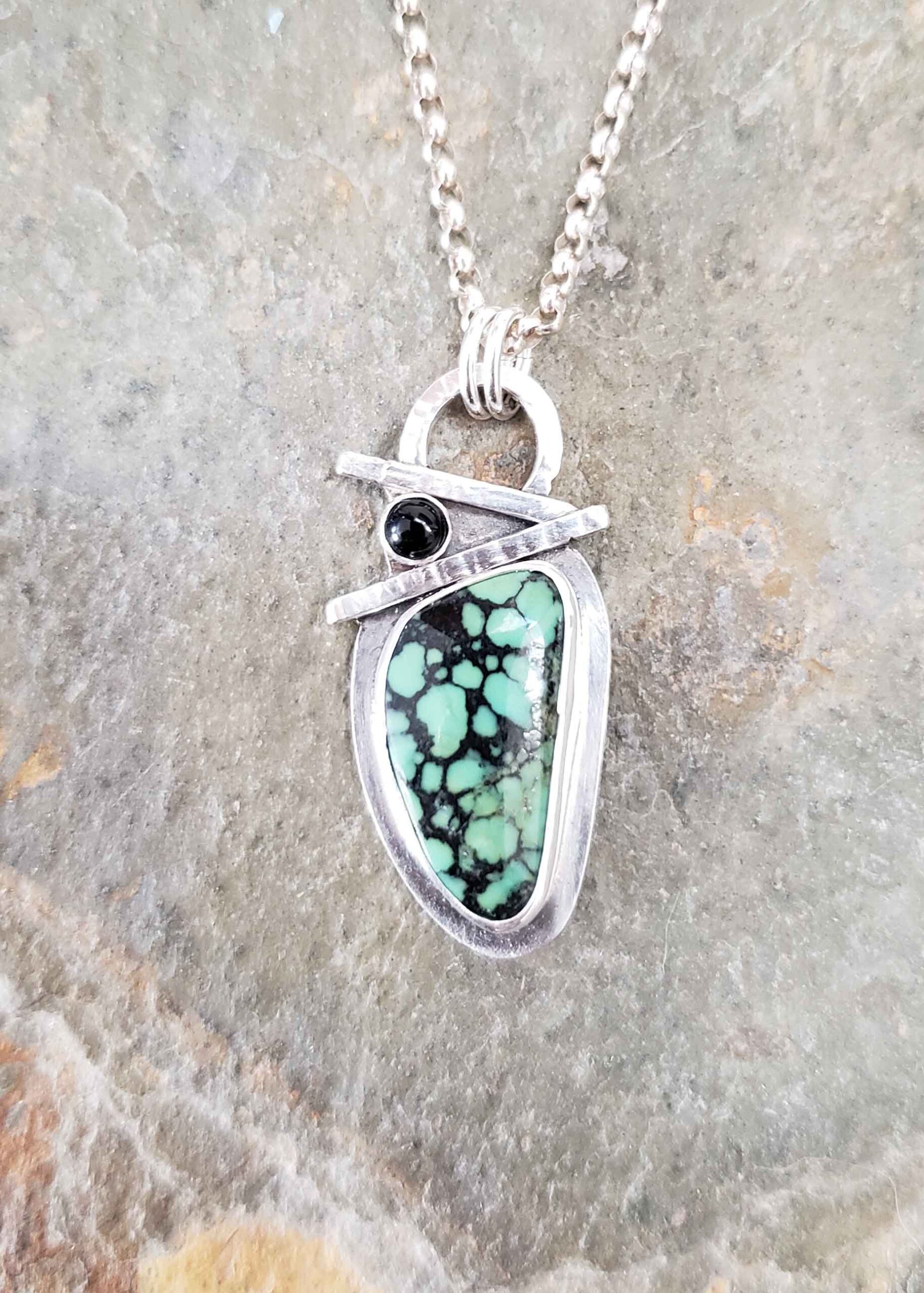 Coming Together – Available 
I have been a little obsessed with turquoise recently. It has always been one of my favorite stones and one of the first stones I created a piece around. Depending where the turquoise is from it can look very different, even here in the US, the different areas produce turquoise of ranging colors and matrix. This one is actually Chinese Turquoise. It fascinated me with its black matrix and the green blue coloration. Nature is amazing in its ability to remind us we are all one and to celebrate that oneness.
$225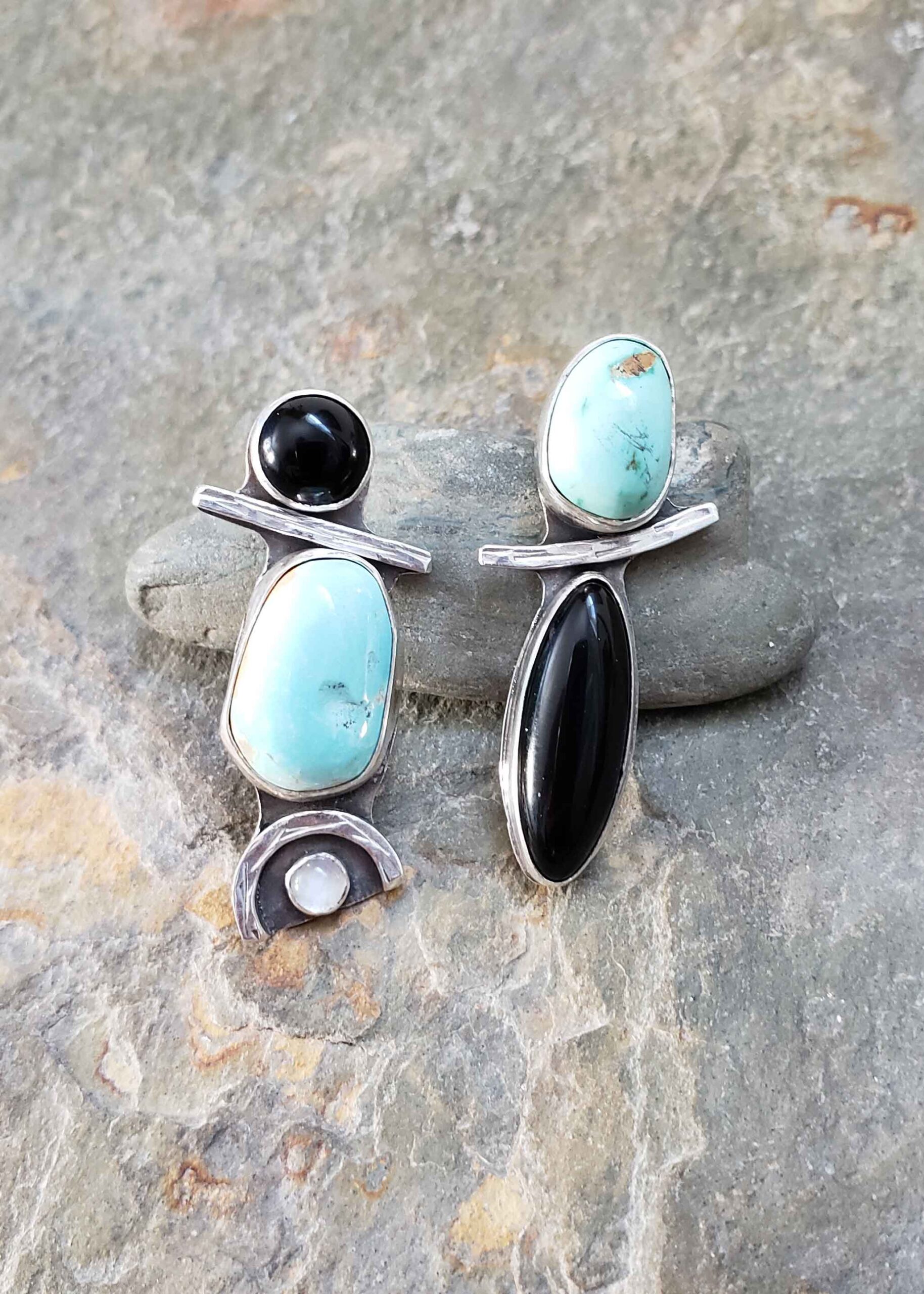 Celebration Totem Earrings – SOLD
Mismatched earrings, they are great conversation starters, fun, stylish, bold, and wherever you go you will be making a bold statement by wearing art.
Turquoise brings inner strength, onyx brings self-confidence and moonstone brings strength to the mix.
$245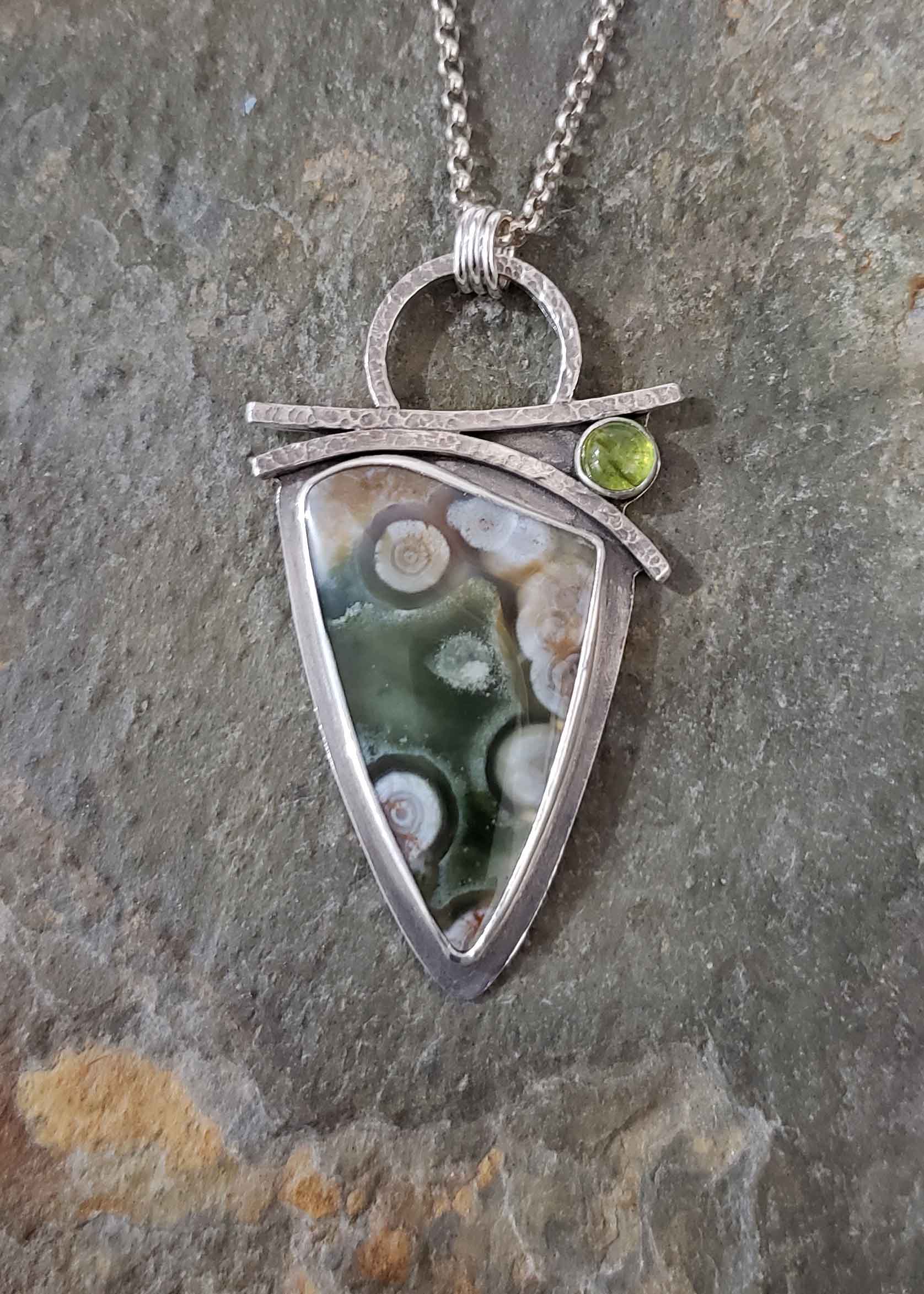 Serenity – SOLD
Serenity can feel elusive. It is something we often wish for. But is within each of us. This pendant is a talisman for serenity.
This piece was a challenge for me. It felt like nothing was going well for a bit. It reminded me I am not always in charge and to relax. And then it all came together as it should.
This lovely ocean jasper is from very old stock and is unusual in its transparency.
Ocean jasper is known for relieving stress and tension, and vesuvianite dissolves anger and alleviates fear and negativity. A great combination for living in our crazy world.
$475